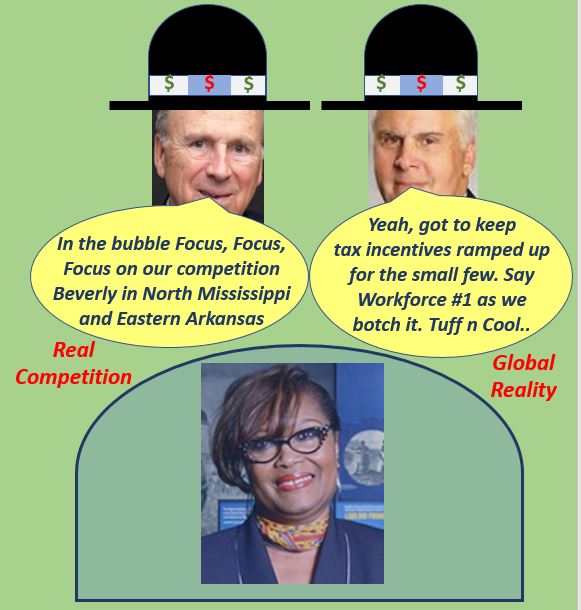 Memphis is just not focused on the real North American economic development competition. Away from the boom town Nashville, take for example a similar river city to Memphis in Louisville which is also an air cargo hub city for UPS.
Louisville has had 40% total wage growth compared to Memphis at 26% since 2010 based on a review of the data. And they have been focused on employer aligned workforce development while also having higher business operational cost ranked at 36 than Memphis ranked at 13 per Wallet Hub. 
This is unfortunate as Memphis has been focused on tax incentives for mostly local concerns and the fake monster competition drummed up by the local establishment in Northern Mississippi and Eastern Arkansas by the hack FedEx/Memphis Tomorrow complex. The local workforce development botch, that is not written about by the local non-investigative press, is by far the most expensive and economically damaging while costing taxpayers over time an estimated $1B in wages and $30M in recurring annual taxpayer revenue. With the FedEx/Memphis Tomorrow complex, its Tuff n Cool to feed on a community and need and its not good for local business !
This is why Memphis does not grow. Companies leave or choose not to come to Memphis because of high crime rates and a challenged workforce and not because of challenging business operational costs. All the while taxpayer money is expended to solve a problem that Memphis does not have in high business operational costs, as the FedEx/Memphis Tomorrow complex feeds on a community in need while advancing a fake competitive monster in Northern Mississippi and Eastern Arkansas.
At a recent public event in Orange Mound, Greater Memphis Chamber CEO Beverly Roberston said, "that Memphis is in competitive warfare with Southaven and West Memphis as all three cities work to lure the same businesses. And then went on to say without a policy reference or data citation, "Other cities, they give cash," before asking Orange Mound residents to imagine where they would choose to go if they had a company and one city — in this case, West Memphis or Southaven — offered cash in addition to incentives to locate there but the other city — Memphis — offered a less lucrative package.
It also seems ironic that the Chamber is so concerned about Northern Mississippi and Eastern Arkansas as significant resources have been allocated to regional economic development efforts in the Memphis Mega Site two counties away in Haywood County. The fact is that when a company chooses to locate in North Mississippi or Eastern Arkansas that its a win for the regional economy over some other region of the United States.
And the Memphis Business Journal reported today in an article concerning Richard Smith's promotion that economic development reforms have not been implemented. While this blog has had a dust up with Richard in the past, Richard, on multiple occasions, tried to expedite meaningful economic development implementation, a weakness for Memphis, only to be obstructed by the  FedEx/Memphis Tomorrow complex. It seems that would not be the case but FedEx goes well beyond Richard Smith.
But, so much for real competition in North American cities like Louisville, Memphis is focused on  Southaven and Eastern Arkansas.
Workforce Memphis vs Louisville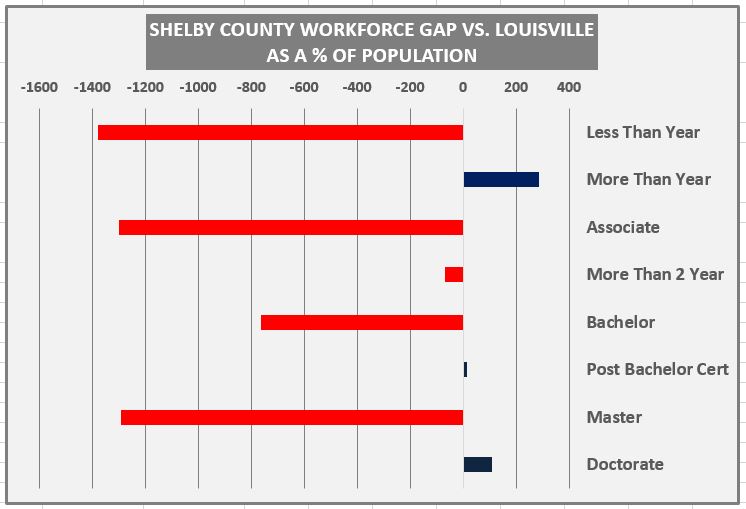 So how is Louisville increasing total wage growth by 40% compared to Memphis as 26% ? Well it appears,  beyond empty rhetoric, that workforce may be Louisville's  #1 IMPLEMENTATION priority. Louisville / Jefferson County has an older approximately 717K in population compared to a younger 937K for Shelby County. Yet, based on the most recent data from the Integrated Post Secondary Data System, Jefferson County had 13,609 post secondary awards compared to 12,283 for the much larger Shelby County. Based on a percentage of the population that would equate to 4,300 more post-secondary awards across award levels for Jefferson over Shelby County.
4300 more post secondary awards would go a long way in Shelby County to satisfying employer occupational demand and 10-15k open jobs. The above chart shows the post secondary award gap derived from percentage analysis based on Shelby County's 937K population. Its clear that  Louisville is addressing the bulk of employer demand that requires less than a four year college degree while also addressing 4 year and above degrees.
The below table reveals the post-secondary workforce development gap Memphis versus Louisville derived from a percentage analysis. Also referenced are the O*NET job zones with a job zone 1 being below a high school equivalency, 2 being at least a high school equivalency, 3 an Associate Degree, 4 Bachelor Degree and 5 Masters Degree or above.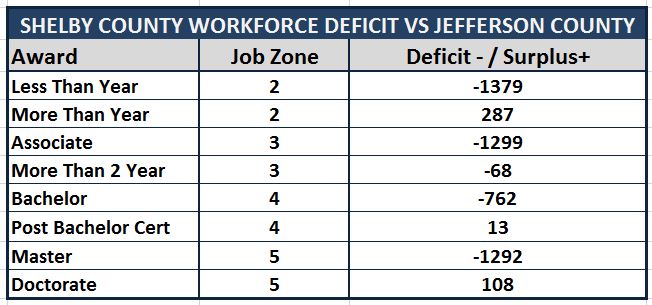 Its clear from the below data, that projected employer demand for the 2024 projections from the former Shelby and Fayette County Local Workforce Development Area that the bulk of employer occupational demand at 77% requires less than a Bachelors Degree while much of job zone 2 requires a post-secondary award. This is based on public data previously published by the Tennessee Department of Labor for the previous workforce development LWDA 13 region that has since been expanded to include Tipton and Lauderdale counties. This type of distribution is fairly common across the country based on publicly available data that typically contains some data suppression for select occupations.
That is why promoting career pathways and less than Bachelor's Degree to fuel the local economy is vital while knowing that progression along these career pathways can lead to a Bachelor's Degree or above.  See below data for job zone 1 being below a high school equivalency, 2 being at least a high school equivalency that likely includes a post secondary certification, 3 an Associate Degree, 4 Bachelor Degree and 5 Masters Degree or above.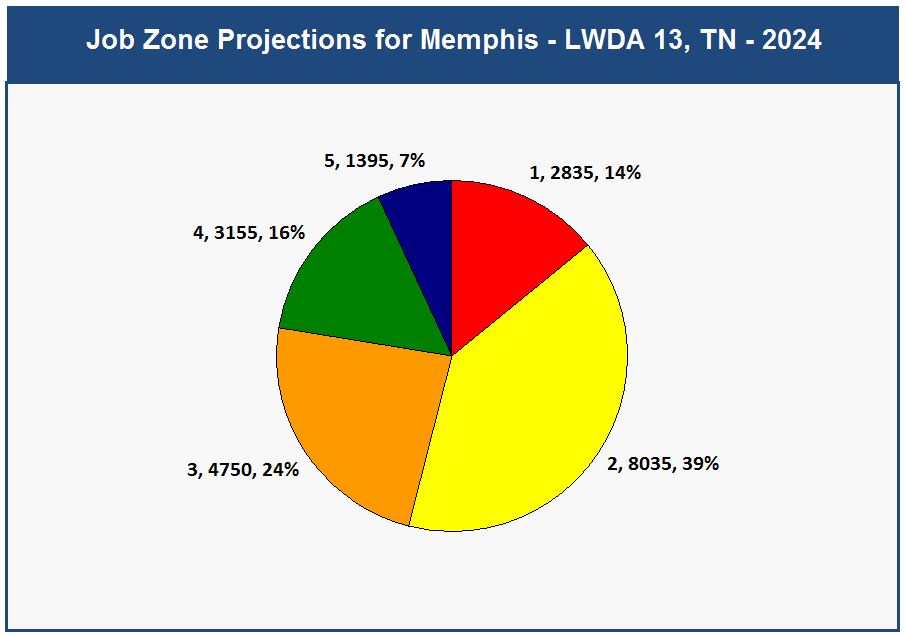 Conclusion
Its stunning that the FedEx/Memphis Tomorrow complex has botched true economic development while bullying and dismissing their own people through a lack of connected workforce development implementation. A decision that goes to the top of the Memphis ecosystem while the very same people feed on a Memphis community in need with excessive tax incentives.
No city can grow while its citizens are bullied through excessive tax abatements that benefit the small few while dismissing their own small business and the education of its citizenry. But with the FedEx/Memphis Tomorrow complex, its more of the same with focus, focus, focus on Memphis economic rivals in North Mississippi and Eastern Arkansas instead of the real competition in North American cities like Louisville who are actually engaged in the work of economic and workforce development.
But in the Memphis bubble of FedEx/Memphis Tomorrow, North Mississippi and Eastern Arkansas are the primary Memphis economic development competitors. The complex loves to tell the Memphis citizenry what to think and if the community continues to buy it and recognizes N. Mississippi and East Arkansas as their primary economic development competitor, Memphis loses out of the gate.
Memphis has declined because its built in to the economic development design and a cultural output of the bully hack FedEx/Memphis Tomorrow corporate community complex. The complex actually believes that they can systematically bully their citizenry and evolve the Memphis ecosystem. So much for economic growth…..