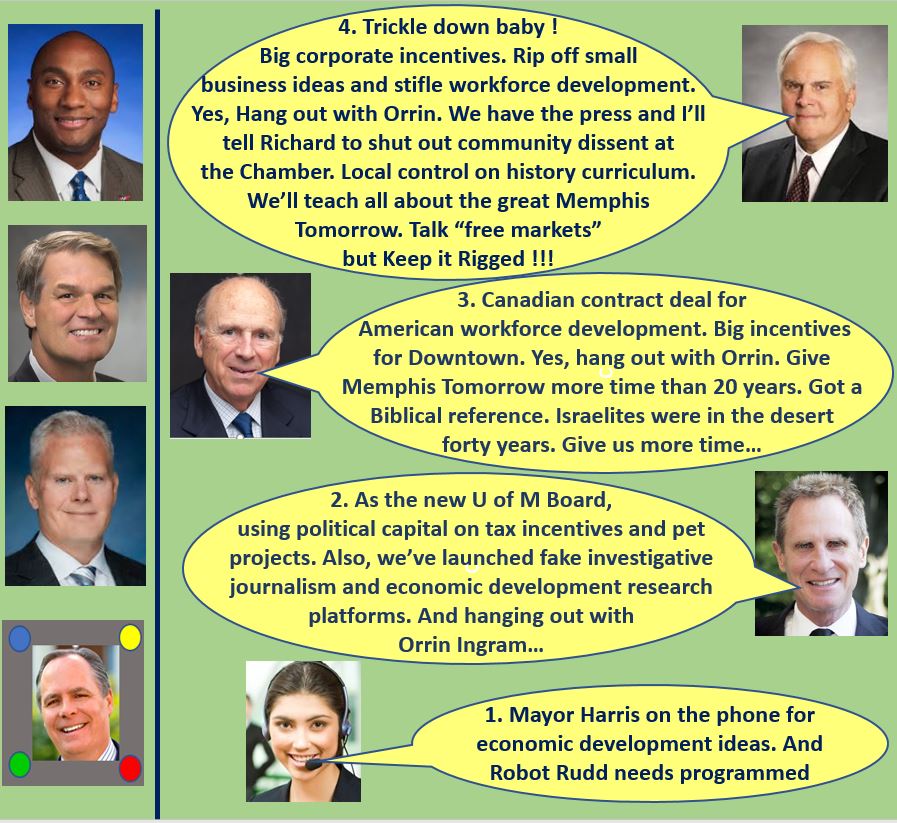 Data is a bastard. As it reveals what happens when Memphis/Shelby taxpayer funding is unmarried with the implementation work of community and economic development.
This comes as Memphis/Shelby depletes its budget through excessive corporate/real estate incentives to fix a problem that the city does not have in high business operations costs. The PILOT program overall is  a wealth transfer initiative from a community in need to global corporations that undermines the primary growth agents of any local economy in small business and workforce development. This conclusion is based on a recent WalletHub article regarding the best place to start a business where Memphis ranked 13 out of 100 cities for business cost but 84 overall when ranking the best cities to start a business. The average business cost ranking for the top 10 cities was 31 and 46 for the top 20 cities.
Memphis further ranked 93 out of 100 in business environment. This is the area of a closed business culture that I have been confronting and Leslie Smith of the Epicenter recently challenged in a blog. Probably, the same backwards mind set that surrendered the local music industry to Nashville years ago.
In my experience, the corporate hacks protected a Canadian contract that did not deliver connected workforce development programming while ripping off local small business solutions to fix the problem and transferring those ideas to a billionaire in Nashville. This occurs as 100,000 students in a Memphis community in need have been left with disconnected workforce development services over four years all while strangling business and total wage growth at a Memphis/Shelby taxpayer cost of $30M per year. See below table:
WalletHub – Best Large Cities to Start a Business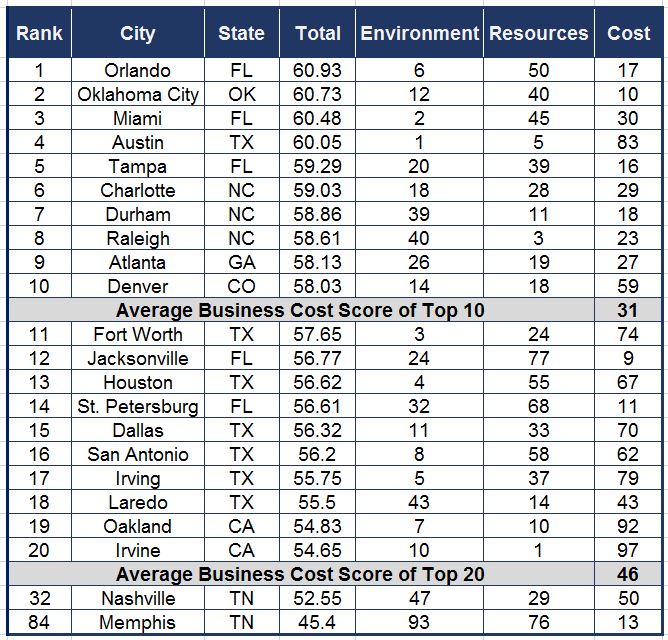 As has been consistently rambled on in this blog, Memphis has deficient total wage growth while being underwritten with excessive corporate/real estate incentives and botched workforce development efforts that has resulted in $500M in deficient Memphis/Shelby tax revenues since 2010. At the same time, stunningly, Memphis legislative bodies just cannot figure out why property tax revenues are depleted. Go figure….
What has happened is the hack corporate socialist FedEx/Memphis Tomorrow complex has been successful in selling a Memphis community in need a bag of  "trickle down" goods while promising a better tomorrow for all. It's a bag of goods that cannot be defended as prudently data driven, on the right as fiscally conservative or on the left while considering income inequality. Its completely indefensible !
But the "trickle down" bag of goods has created a market condition by incenting abating boards to consistently surrender more in commercial property taxes for new development (75%) for corporate/real estate interests than the taxpayer benefit while also in many cases additionally abating existing property taxes. Its a design for community decline all while being justified with a bogus projection accounting platform.
Just this week, on the EDGE Board agenda, as customary, are proposals to consider 75% property tax abatements. The University of Memphis is deploying their political capital in support of two projects on their EDGE partner's agenda. But, it's a totally unnecessary deployment, as a 75% abatement is a slam dunk for the EDGE Board as they are incented to maximize the abatement award for themselves. The vote would be unanimous without U of M support.
And, what about the previously announced "target sector" strategy ? Well, there is no evidence of any targeting goin' on at this month's EDGE Board meeting as Patterson, another warehouse project, is set to get a 75% abatement. Local economic developers like to "smoke their own dope" and talk about things like "target sectors" but implementation is a whole other story.
Implementation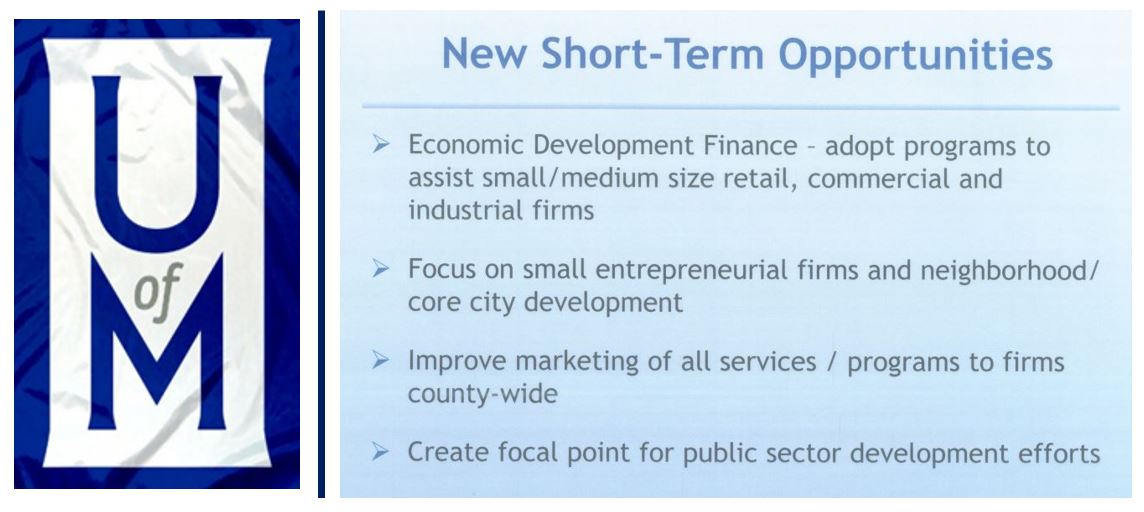 So what if the public U of M would have independently gone to work as a transformational and data driven economic leader advocating for their Amazon Road Map and credible economic development measurement while supporting that advocacy with  investigative journalism?  It's likely we would already have an economic development plan with more budget responsible incentives and connected workforce development deployed. But that did not happen under the FedEx/Memphis Tomorrow Board of Trustees.
And, what if EDGE would have executed on their neighborhood, entrepreneurial, small/medium size business development mission as originally presented in 2011 prior to Council/Commission approval ? Well there would be a more robust and resilient small business economy and maybe $200M in less corporate/real estate incentives. But EDGE was not incented to do that. They were incented to serve corporate/real estate interests with large abatement awards while also abating existing taxes.
Or, what if EDGE would have come out of the gate and executed a connected workforce development strategy when they took over GMACW instead of hanging out with Orrin Ingram. Well there would be a connected workforce development implementation addressing the areas's #1 economic development problem. But it has never been about marrying taxpayer funds with the work of community and economic development. To that extent data is a real bastard.
Conclusion
Here's the challenge. Memphis corporate community leadership is NOT data driven at all. They are data manipulators content on maintaining the status quo which is why Memphis does not grow. And, it's sad that Memphians have been robbed of yet another institutional check on local economic development efforts through the area's leading public research university and the U of M's FedEx/Memphis Tomorrow Board of Trustees.
Solutions that would likely not change Memphis/Shelby's business cost profile one bit are on the table regarding incentive reform. That overall solution is 50% abatement on new capital investment, while sustaining current job levels and a 1% abatement on total wages for new jobs while maintaining PILOT investment and term requirements. In a target sector strategy, target industries might get slightly more than 50% while non-target industries like warehouses would get less than 50%. But keep in mind, based on the data, this proposed abatement strategy is fairly liberal as excessive business operating costs are not the problem.
Of course, solutions for connected workforce development have been on the table for 4 years as well. Folks do buy in and propose solutions only to be shut out by a closed economic development system seemingly content with feeding on a community in need. And its true. If economic development investments are not directed to areas of need, the corporate socialists will run themselves out of town while blaming Memphis/Shelby public entities.
Away from PowerPoint presentations and the announcement of new initiatives, in the end it's about marrying taxpayer funding with the implementation work of community and economic development. If that doesn't happen, quality of life suffers.
And what about that nagging question of $500M in Memphis/Shelby tax revenue shortfalls since 2010 ? That data point is just one real bastard……