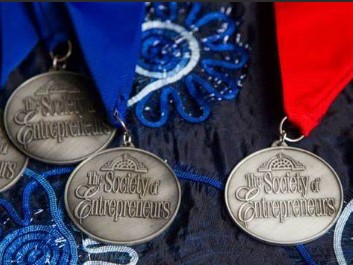 Who are these cats in the Memphis Society of Entrepreneurs ? Well like many well heeled private nonprofits, they are yet another local organization that has luncheons, speakers, events and closed meetings.  Founded in 1991, the organization's purpose is to promote the general welfare of the community, contribute to the public good, and foster education. The Society of Entrepreneurs supports the creation, development, and implementation of programs that encourage the efforts of entrepreneurs in businesses, and in local, national and international communities.
Walker Ulhorn, one of the SOE founders, can be seen on social media disucssing the merits of business leadership in a capitalist society while also voicing opposition to tax incentives. And it must be said, as a private nonprofit, SOE is  less bound to public deliverables as compared to for example the FedEx/Memphis Tomorrow complex that is routinely immersed in publicly funded initiatives. Fred Smith and Pitt Hyde are the only two SOE members that are in the SOE Hall of Honor.
At the same time, while the SOE may want to persist in their current form to be for the most part what appears to be a social professional organization, the well heeled organization could be pivitol in the evolution of the Memphis ecosystem. After all, entrepreneurial development is a major local need. What would SOE need to know to be a transformational force? They would likely need to know the state of Memphis Entrepreneurship as well as other information.
STATE OF MEMPHIS ENTREPRENUERISHIP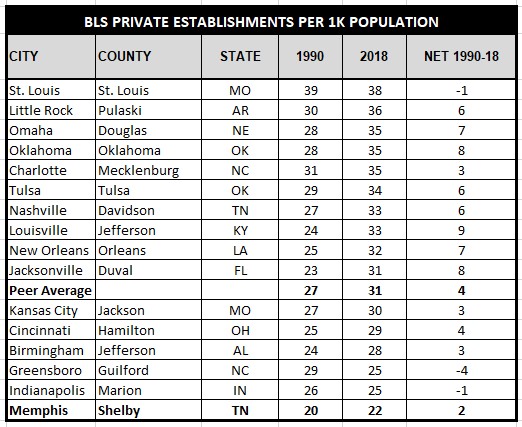 Memphis entrpreneurship is struggling. Per the chart above, since SOE's founding in 1991, Memphis remains last  among 15 peers in private business establishments per 1k population based on Bureau of Labor and Statistics Data. And in 2017 the American Cities Business Journal ranked Memphis last of 106 metros in small business vitality while WalletHub recently ranked Memphis 84th out of 100 best cities to start a business. This ranking occurred as Memphis ranked 13th in overall business operational costs as corporate/real estate incentives roar for the benefit of the small few to unnecessarily lower already low operational costs.
Just yesterday, Smart City Memphis wrote about the implosion of the Memphis Music Industry and lack of leadership to leverage an unmatched music heritage and rich local talent base. Music invites entrepreneurship in all of its forms in creating, starting up, getting a gig, promoting and scaling. But how does Music as an industry die in a city like Memphis with such an unmatched vibe and musical heritage? And why did Nashville's music industry soar?
The root cause may be found in a lack of local appreciation for raw entrepreneurship which consists of innovation, problem solving and creativity while instead prioritizing fixed social constructs.  These are fixed social constructs that appear to have rigged Memphis into a state of stagnation and decline occurring without an external event.
What Else Would SOE Need To Know ?
SOE would need to know that the FedEx/Memphis Tomorrow complex of  SOE Hall of Honor designees in Fred Smith and Pitt Hyde has stifled small business development within the context of defining economic development with excessive corporate/real estate incentives for the benefit of the small few.
SOE would need to know that local educational efforts around entrepreneurship and career development were botched by the FedEx/Memphis Tomorrow complex over five years while using taxpayer funds. They would need to know that the FedEx/Memphis Tomorrow complex felt entitled to botch local workforce development efforts for a community in need over a 5 year period.
SOE would need to know that there really is no small business lobby in Memphis as excessive corporate/real estate policy takes its toll on a Memphis community in need with increasing poverty rates. This policy landscape is a prescription for entrepreneurial decline.
SOE would want to know, since the beginning of the FedEx/Memphis Tomorrow complex, Memphis has the lowest GDP growth of 15 peers falling behind even New Orleans that experienced a $125B external natural disaster in Hurricane Katrina making the internal Hurricane Hack of FedEx/Memphis Tomorrow more costly than that of the hurricane Katrina natural disaster. Much of this slow growth can be attributed to a stifled small business sector within a closed elitist system.
SOE would need to know that the best way to help small business is to help them get a gig right away THEN refer them to the likes of the Epicenter who help with business planning, collaborative work spaces and the like. There is a whole group of local organizations that will help with business planning and collaboration but no one seems to want to help a bastard get a purchase order.
And finally, they would need to know that the Greater Memphis Chamber doesn't publish their bylaws and kicks people out without cause a clear sign of closed system elitism.
So How Might SOE Help ?
Again, SOE is a private nonprofit. They just might want to keep doing what they have been doing. But then again they could come out of their closed meetings and do intake from those people that have been shut out of a closed stagnant system to hear their challenges. Seek out those struggling businesses and try to hook them up. The small business challenge out of the gate is gonna be that they need some business not business planning advice. Of course, business planning assistance will probably be needed as well.
Perhaps SOE President Duncan Williams could do intake interviews. State officials like Gwyn Fisher and Representative Mark White won't do them as they are too busy working with the establishment and folks connected to the FedEx/Memphis Tomorrow complex, a complex that is down in all categories over almost 20 yrs, while their initiatives use federal, state and local tax dollars. Besides, Williams knows that people have been kicked out of the Chamber without cause and we all know about regulatory authorities harrassing a local Airbnb owner.
Then again SOE might be content in their closed meetings. But closed meetings with the same people is not going to change the trajectory of entepreneurship in Memphis….