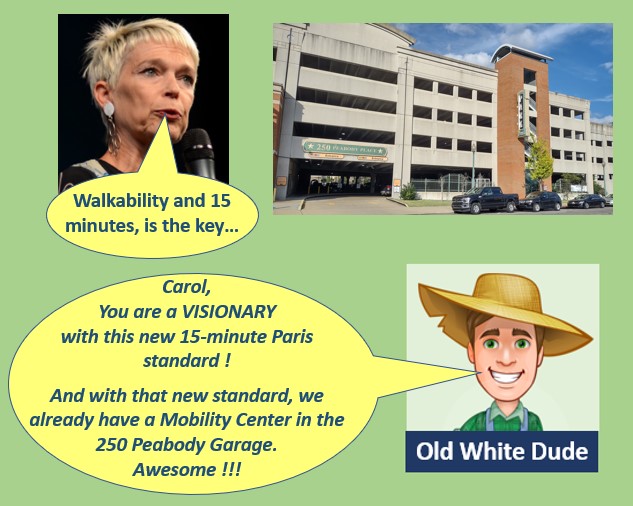 Memphis Riverfront Parks Partnership's (MRPP) Carol Coletta recently articulated a new "Paris" standard. And that standard is 15 minutes walking or by bike to meet one's daily needs. Given that standard, and with a virtually an empty 250 Peabody Place garage, during peak 11am-1pm weekday time, much of the planned Downtown public parking garage expenditures need to be curtailed.
As evidenced in the Downtown Parking Study, before COVID, Downtown public parking is plentiful. Curtailing the Downtown Mobility Center and Wagner Place projects will save taxpayers $70-80M over 25 years. After all, we already have a mobility center at 250 Peabody Place with bike racks and electric charging stations.
Additionally, all of the much less expensive than garage to build, promised MRPP curbside parking, per mediation agreement, needs to be built, on both sides of Riverside. This will help maximize public riverfront access, use and investment.
Recently, the Downtown Memphis Commission released their 2021 year end financials and my observational conclusion of a virtually empty 250 Peabody Place Garage was confirmed, with the garage generating $209K in revenue and a $869K cash loss. 250 Peabody Place has approximately 1,000 available spaces which, at $10 per day, results in annual revenue potential of $3.6M. This means the occupancy rate of 250 Peabody Place sits at about 6%.
The improved financials, that operationally breaks out each garage, were produced by DMC's Penelope Springer under the new DMC leadership of Paul Young. See page 10 of the financials:
Significant opportunities exist to improve public economic development return on investment. And per the TN Attorney General's opinion, that is often locally cited as the authoritative legal source on PILOT Extension Fund use (PEF), the PEF can fund virtually anything related to economic development, to include needed workforce development.
Given this flexibility, the DMC's Downtown Mobility Authority and Paul Young have the opportunity to be heroes on the local economic development front with $70-80M, in away from parking garages, targeted economic development investments. But what about walkability and the Paris standard?
Walkability and Empty Garages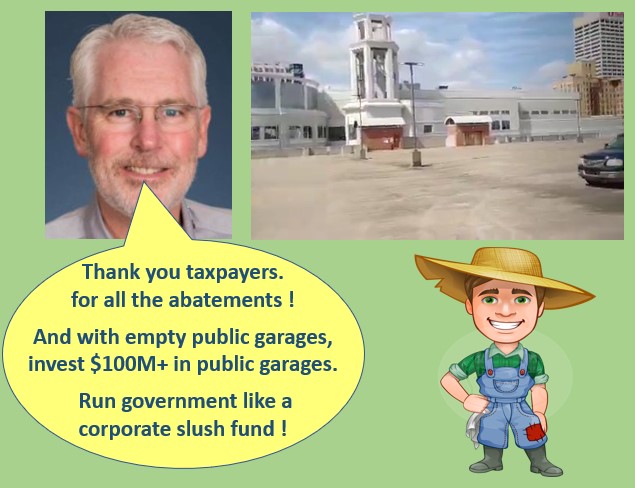 What's weird is everyone is talking about walkability, but no one wants anyone to walk. The former, while spending $100M on public garages, with empty garages and plenty of parking during peak time. If the Carlisles need a garage, they should build it; not the taxpayers after all of the lavish incentives provided to the Hyatt/One Beale Development.
So given Coletta's Paris standard, as an old fat white dude, while not jaywalking at all, I clocked my walking time to various locations around Downtown. Keep in mind, the Paris standard is 15 minutes walking or by bike. Here are my pleasant walking times, from the virtually empty 250 Peabody Place garage during peak time:
AutoZone Headquarters – 6.25 minutes
Riverfront – 10 minutes
City Hall / Shelby County Bldg – 15.5 minutes
National Civil Rights Museum – 12.5 minutes
Central Train Station – 16 minutes
FedEx Forum – 3 minutes
AutoZone Park – 5 minutes
Future Union Row / The Walk – 2 minutes
Peabody Hotel – 4 minutes
Beale Street – 2 minutes
Given the Paris standard, empty garages and plentiful parking, there is no need to spend $100M on public parking garages. But there is a big need for targeted economic development.
Let's get started, with the new and improved DMC under Paul Young….