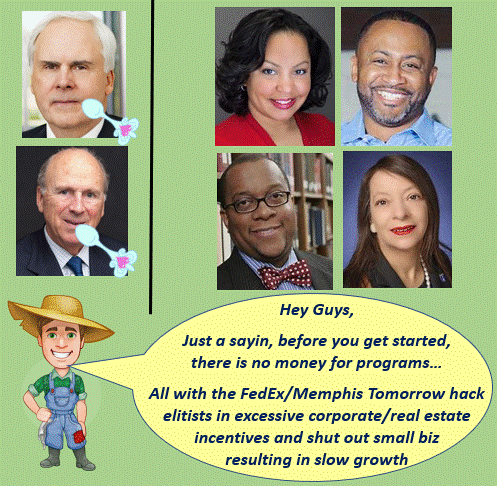 These economic social justice panels are constantly running in Memphis. Such a panel is scheduled for Monday, MLK Day, entitled "Continuing the Legacy". The panel touts a "radical economic agenda" while featuring Wendi Thomas, Drs. Elena Delavega, Charles McKinney and Earle J. Fisher. But with major employers either tax exempt or getting 75% tax abatements, by design, there is no money for a transformational economic agenda.
Many of these panels appear to be more pageantry than activism as they run in parallel to a culture of runaway elitism in Memphis while rarely intersecting the unmeasured FedEx/Memphis Tomorrow complex. While still imperfect in other communities, a meaningful degree of taxpayer advocacy is just part of the discourse, where checks and balances are implemented, policy change advances and course correction occurs. But not in Memphis, all while social justice panels seem to run in parallel with runaway elitism.
Meanwhile, the FedEx/Memphis Tomorrow complex is down in all categories while their initiatives use your federal, state and local tax dollars. Memphis has persistently declined as a competitive ecosystem, over almost 20 years without an external event. Folks should be pissed off about the former but they are not as decline has just become normalized. And without university thought leadership and an investigative traditional press, the public white, black, Republican, Democrat, male, female is ignorant of anything else other than systems of decline.
The social justice civic confrontation that one would expect to regularly occur as part of the public discourse never really happens. The lack of civic confrontation results in a system without the vitality to grow while contributing to lacking checks and balances. The lead to the "Continuing the Legacy" event discusses a "radical economic agenda".
Radical in Memphis is mere taxpayer advocacy. That is advocacy that comes with a more vibrant discourse in legislative chambers that confronts runaway elitism – while insisting on measurement of an unmeasured public/private complex – that awards excessive corporate/real estate incentives for the small few. Such a vibrant discourse with checks and balances, evident in other communities, is just non-existent in Memphis.
And with a plethora of social justice organizations in Memphis, such organizations are rarely seen in public chambers objecting to excessive incentive awards at an EDGE meeting, or objecting to the reappointment of EDGE Board members, or objecting to a $3M riverfront grant that contains no schedule of deliverables or objecting to a $3M UofM tennis center grant without hearing competing proposals.
Just as a matter of standard process, even if everything were going fine which its not, abating board members should have only 4 year terms with only 1 allowed reappointment resulting in 8 years of service at the most. Currently, abating board members can serve twice as long as the Mayors or local legislators ! Anyway most of the above wreckage occurred just in the last 2 weeks with the EDGE Board reappointments approved by your new City Council.
At the same time, these panels convene regularly calling for more programs when there is no public money to support transformational programming. The money has already been transferred to corporate/real estate interests in some $250M in excessive incentives while other growth tax revenues have been stifled with a dismissed small business sector and disconnected workforce development system.
Routinely, these panels fail to prosecute the business case against runaway elitism. It's a simple case. Elitism is, always has been and always will be anti-business.
The Business Case Against Runaway Elitism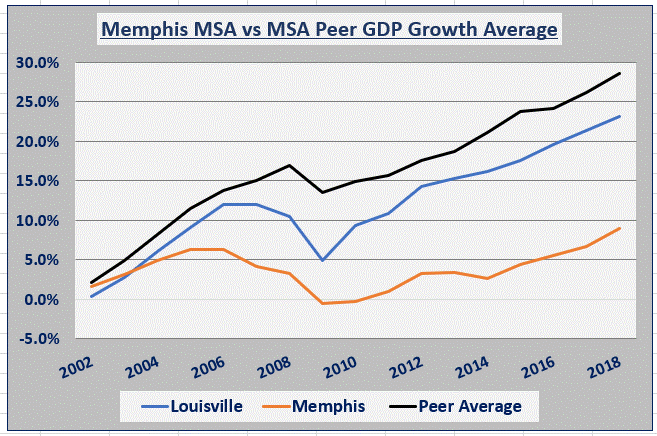 The business case against elitism is that it does not work for business as shown in the above chart. If the cities in the chart were unknown and someone said that the city in the orange trendline is rigged and has stagnated with the same rotating band of players sitting on boards while the small few benefit from runaway elitism, that would be easily believable to most. That is the simple business case against runaway elitism but the social justice complex never prosecutes the case.
Recently, Charles Gascon of the St. Louis Federal Reserve was in Memphis speaking. Above is a chart using the same data set and source that Mr. Gascon used in his speech but dating back to when the FedEx/Memphis Tomorrow complex began in 2001.
It shows Memphis Gross Domestic Product (GDP) being effectively flat vs the GDP peer average that consists of 16 cities over 17 years. Tired of Nashville comparisons, also included in the chart is Louisville, a similar to Memphis border, river and transportation hub city. Cities like Nashville, Charlotte, Jacksonville, Oklahoma City reside above the black peer average trendline.
So what does this mean in dollars? It means approximately $150,000,000,000 in accumulated business GDP shortfalls in the Memphis MSA vs the peer average since FedEx/Memphis Tomorrow began. This translates into about $1,500,000,000 in accumulated local tax revenue shortfalls while now annually recurring at $200M vs the peer average since 2001. Explained with $200M more per year, is the fulfillment of local public safety, adequate transit, education, roads, trash and utility infrastructure needs with lower property tax rates for all.
The policy stack of FedEx/Memphis Tomorrow consists of the excessive incentives that we all know about as well as a vast public-private network that leverages taxpayer dollars for community betterment. But again, decline is normal in Memphis with the public and social justice organizations seemingly unalarmed by the fact that Memphis Tomorrow is down in ALL categories while using taxpayer money over almost 20 years. All occurring as Memphis declines and corporate/real estate incentives roar for the small few with taxpayers paying increased fees.
I communicated with Gascon after his presentation. And he shared a presentation with me that he gave in St. Louis and not Memphis. The presentation in slide 6 aggressively questions the economic impact of incentives. The slide validates much of the projection accounting in the proposed tax incentive fiscal note impact (TIFNI) platform and the type of projection accounting that is not presently occurring with Memphis tax incentives. Maybe Gascon will share slide 6 with new St Louis Fed Board appointee Carolyn Hardy.
More expanded references for Gascon's summary points found in slide 6, can be found in Dr. Timothy Bartik's work, "Making Sense of Incentives". The work contains a diagram on page 23 that identifies leakages in common economic incentive modeling. The diagram supports the devlopment of a more complete accounting model for incentive projection accounting.
Anyway, TIFNI proposes to provide a fiscal note for every tax incentive while erecting a measurement platform for public- private initiatives. Based on research, other communities are doing some degree of TIFNI already, based on their incentive sizing, but not Memphis with the award just this week of a $38M UPS incentive for an investment that was going to happen nowhere else except the Memphis Airport.
Conclusion
All in all, the business case against runaway elitism is easy to make, as expressed through excessive incentives and an unaccountable public-private complex. But for whatever reason the social justice complex is not making the business case. That is the case that runaway elitism is not good for business or the community as whole.
While commonplace elsewhere, radical in Memphis, is taxpayer advocacy. Basic taxpayer advocacy is where to start. But if the panel wants to be radical, maybe they should send the FedEx/Memphis Tomorrow complex a data supported invoice for $1,500,000,000 payable immediately for deficient community results occurring as a result of runaway elitism.
And the elitist don't care about your race, they will in a sense, "carjack" any taxpayer regardless of their demographic.
Maybe something will change and be sustained in the public discourse following the "Continuing the Legacy" panel. We shall see…..