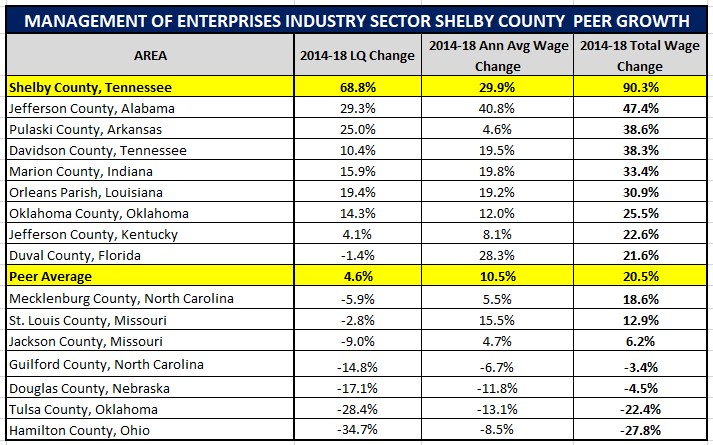 Memphis industrial momentum can be found in the Bureau of Labor and Statistics (BLS) sector of "management of enterprises". Since the 2014 Brookings FOCUS Memphis-Shelby County Regional Economic Development plan release, average wages have increased by 30% (peer avg 10%) and total wages have increased by 90% (peer avg 20%) in the plan untargeted management of enterprises sector.
The sector pays an average wage of above $100K and has a low economic multiplier to fuel community economic growth. Shelby County significantly leads all of its 16 member peer group in percentage total wage growth of this industry sector. See table above.
The management of enterprises sector hosts wealth management holding companies which in many cases house the real estate LLCs that benefit from tax incentives. To increase economic resiliency, Brookings FOCUS targeted diversification of wage concentration away from the heavily concentrated transportation sector with growth targets residing in healthcare, professional technical services, agriculture and manufacturing sectors.
The unplanned growth in management of enterprises reveals that significant wage growth concentrated in high wage jobs that needed wage growth the least as measured by location quotient. Location quotient, in this case, compares total wage concentration of an industry sector to locations throughout the United States. Shelby County led its 16 member peer group with 69% total wage concentration growth (peer avg 5%) in management of enterprises. This growth happens to coincide with the acceleration of liberal tax incentives that occurred under the 2014 Brookings FOCUS plan.
Good news in the below chart shows that transportation, a dominant sector employer, had 13% growth in average wages and healthcare achieved peer average growth from 2014-18. Bad news is that targeted sectors for wage concentration growth in professional technical services, agriculture and manufacturing all declined as did average wages in the respective sectors.
Most concerning is the 17% wage concentration decline in manufacturing (+1.3% peer avg) occurring as local workforce development efforts were dismissed. This occurred as Shelby County average wages exploded upward for high wage jobs in the untargeted management of enterprises sector from $109K to $142K under the unmeasured Brookings FOCUS plan. See chart below: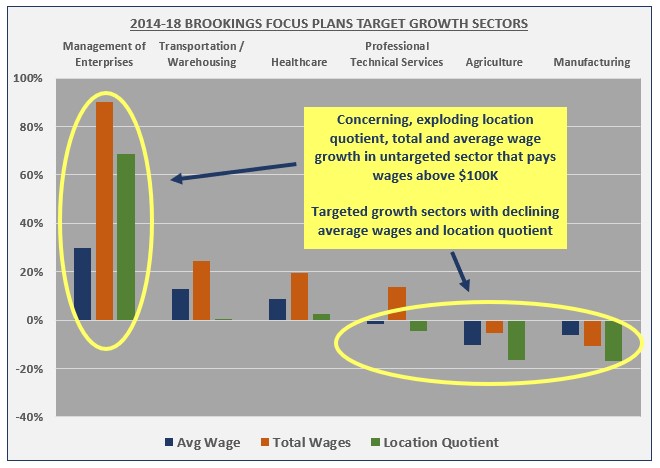 Workforce Development – Tulsa and Away from Nashville Comparisons
About the time the Brookings FOCUS "vision" economic development plan was released in 2014, Shelby County peer, Tulsa and not Nashville in this comparative case, was releasing a detailed workforce development "implementation" plan. The plan focused on occupations that served the energy, manufacturing, construction, healthcare, professional technical and transportation logistics industries.
Did workforce development implementation work as an economic development strategy for Tulsa ? Overall, yes it did.
From 2014-18, Tulsa led the 16 member Shelby County peer group in both postsecondary completions with a 33% increase and increased wage concentration in manufacturing with a 21% increase. That translated into increasing total wage concentration, as expressed through location quotient (LQ), in targeted sectors and jobs with increasing wages. Professional technical industry wage concentration goal increases did not materialize for Tulsa and transportation goals were not met but appears to have been in part as a result of decreasing average wages in the sector. See below Tulsa results:

Having a measurable workforce development implementation plan worked to increase Tulsa postsecondary completion awards and to increase wage concentration in targeted economic development growth sectors.
Recommendations
The following recommendations can be made based on the above:
Get away from excessive untargeted tax incentives. They don't work as an economic development strategy while making the community less attractive for economic investment
Have a measurable economic development implementation plan with the taxpayer as the customer which aggressively targets manufacturing, professional tech services, agriculture and locally owned small business development
Have a measurable workforce development implementation plan
Prioritize responsible, properly measured and accounted for tax incentives for target industries.
Implementation of these recommendations will help to target and accelerate local economic development efforts while discontinuing practices that have not worked with increasing wages and the customer taxpayer in mind….