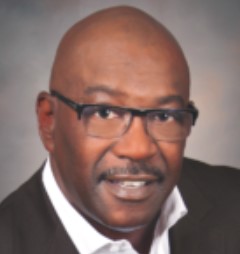 Here we go again. More of the same faces carouselling through Memphis corporate community leadership cartel. Public officials need to give Willie Gregory, as the new Greater Memphis Board Chairman, a chance at success in moving Memphis forward with independent public measurement of the public-private complex. Without independent public measurement, public-private initiatives will leave taxpayers holding the bag.
In the recent past, without independent public measurement, Gregory led the botching of the Memphis workforce development system as the initial Board Chairman of the Greater Memphis Alliance for Competitive Workforce (GMACW). GMACW was a Greater Memphis Chamber "Moon Mission". But it went nowhere, as GMACW was taken over by EDGE who then sustained the botch leaving Memphis 5 years behind schedule on connected workforce development efforts costing local businesses and taxpayers millions.
Pageantry
In fact, in a sea of pageantry, Gregory and team seemed to celebrate the botch with a Nike – GMACW event at the National Civil Rights Museum on April 4, 2016, when GMACW was already a year behind schedule in delivering needed connected workforce development services. The event was entitled "Have We Achieved Dr. King's Dream?" Nope, you certainly have not achieved the dream if you are botching the workforce development system, wasting taxpayer money and leaving a community in need with disconnected workforce development services. For whatever reason, pageantry events are often mistaken as implementation in Memphis.
In yet another pageantry event, in May of 2016, The City and County announced an ACT National Career Readiness Certificate initiative to improve workforce development efforts. But it was never implemented. So damn strange. But non-implementation is normal in Memphis. Other cities measure local improvement initiatives and when work goes off track as it often does, they course correct. But course correction does not happen in Memphis which is largely enabled by a lack of public measurement and oversight.
Gregory in his acceptance remarks said, "Our mayor is a Memphian, both county and city. Beverly Robertson is a Memphian. I'm a Memphian, Richard [Smith] is a Memphian," he said. "I'm saying that to say we grow our own here in Memphis". What's concerning about what Gregory said is that those from Memphis only know systems of decline after 20 years under the Memphis Tomorrow CEO cartel. Memphis Tomorrow is the City's #1 problem while being down in all categories over almost 20 years as their publicly unmeasured initiatives use taxpayer money.
In many ways, it seems folks that come from outside to perform transformative work become confused and leave. Perhaps because of the lack of implementation focus. Glen Fenter, an accomplished executive educator and initial CEO of GMACW came and left as did Eric Miller, Chamber Economic Development SVP. I know I have been confused after having worked in communities across the country at the lack of local implementation when it involves taxpayer money in Memphis.
But the Memphis cartel doesn't know how to process dissent or course correcting innovation thus leaving the City to stagnate and decline. The Chamber after 3 years of knowing funding is the challenge with transit has yet to publish a transit funding position. And everyone has been waiting 2 years for their economic development plan and now workforce development plan.
But in reality, business development is the work of the Chamber and economic and workforce development are core public government functions. Local government should be publishing their own economic and workforce development plans while independently measuring public-private partnerships and indeed recognizing the Chamber as an influential stakeholder along with taxpayers.
Excessive Incentives Undermine Economic Development
Gregory touted workforce development in his acceptance remarks. But excessive corporate/real estate incentives have dominated local economic development efforts while undermining needed funding for workforce development.
This incentive excessiveness can even be shown to be anti-business with declining small business vitality and below peer average total wage growth. EDGE, who is now over GMACW, never holds public meetings while they meet practically every month to approve excessive corporate/real estate incentives for jobs that cannot be filled. And this occurs in a city with nationally low overall business operational costs making excessive incentives less necessary.
Gregory's own Nike can be used as an example of an excessive incentive. Memphis abated $57M in taxes to transfer wealth from one of the most impoverished areas in the country in Memphis to one of the least impoverished in the Portland, Oregon area where the Nike headquarters is located.
Upon figuring economic and fiscal impact, using responsible assumptions, the Nike abatement generates $13M in net fiscal impact after 15 years for Memphis/Shelby taxpayers on the $57M abatement. That is a 1.5% simple interest annual return.
The right size Nike abatement, when considering average wages and new capital investment is $13M not $57M, resulting in a $45M excess abatement. Keep in mind, with greater job growth, Indianapolis had $135M in job tax incentives on 110 projects whereas Nike was $57M for one project and overall EDGE has awarded $500M+ in job tax incentives. EDGE projects, using inflated accounting to justify the excessive abatement, $47M in net revenue without fiscal impact analysis for Nike.
Clearly, Indianapolis is doing the real math of economic and fiscal impact in sizing their incentives. But the math on incentives isn't being done in Memphis while awarding everyone the same 75% abatement and in some cases abating existing property taxes. See below Nike fiscal note using the tax incentive fiscal note impact (TIFNI) platform: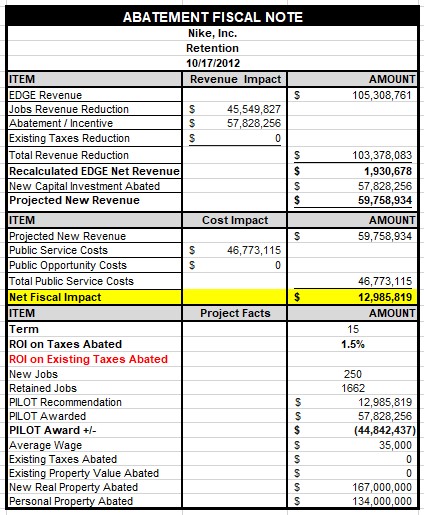 Sadly Memphis/Shelby has no way of measuring their return on investment of incentives. There is no reliable economic and fiscal impact analysis and even if public officials decided to undertake an evaluation, they could not do it as there is no central repository for housing tax incentive data for 9 abating boards. This results in both a measurement and data problem.
Conclusion
Local public officials should support Willie Gregory and the public-private complex with independent public measurement. Without independent public measurement, Gregory won't be successful and Memphis won't move forward….