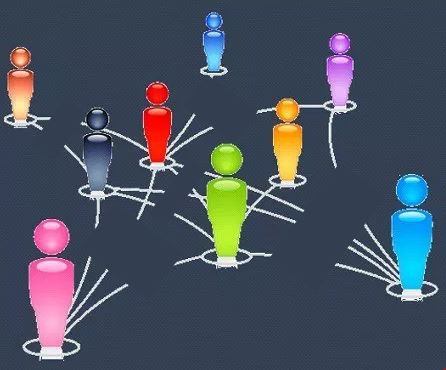 The Joint Shelby County Workforce / Education Ad Hoc committee met yesterday for the first time since 10/31/18. While there were a few bright spots toward the end of the meeting by County CAO Patrice Thomas and Commissioner Tami Sawyer, meaningful progress to connect local workforce development efforts did not occur.
The goal of the committee is to optimize and connect workforce and educational programming with employer and individual student/worker needs. The committee consists of Shelby County Commission members, Greater Memphis Chamber representatives as well as other civic organizations.
Meeting Summary
The meeting seemed to be a repeat of former meetings with civic organizations discussing their respective workforce development programs without any common language supports to facilitate productive communication.
The meeting comes after the Greater Memphis Chamber, once again, touted workforce as the #1 economic development priority at their annual Chairman's luncheon. But nothing of significance was accomplished at this meeting that would facilitate a running start for workforce in 2019. In fact, this meeting set up more of the same in reports and homework for committee members as the Chamber remains unable to articulate an alignment protocol on behalf of employers to direct local workforce development efforts and programming.
Bright spots included Thomas and Sawyer at the end of the meeting. Thomas, brand new to the committee, smartly summarized the need for a convergent database website to connect workforce development efforts. And Sawyer, less concerned about web-based technology, focused on the need for a coherent workforce development plan deliverable.
Both Thomas and Sawyer are right on target. Web-based technology provides the delivery framework to cost effectively deliver connected workforce development programming. And a coherent plan provides a research based articulation for workforce development stakeholders to coordinate their efforts to meet employer demand and individual student/worker needs.
While new to local workforce development efforts, what Thomas and Sawyer don't know is that solutions in web-based database technology and a coherent research- based plan are ready to go now. But such needed fundamental elements have been blocked for the past 4 years by Memphis Tomorrow, Greater Memphis Chamber and EDGE in what appears to be an ongoing assault on Memphis/Shelby County taxpayers.
Local workforce development efforts have been hobbled by a lack of a research-based plan, common job board technology, marketing plan, incomplete career navigation technology or data to quantify employer skill or knowledge demand.
Taxpayer Assault
The assault on the Memphis/Shelby taxpayer, over the course of 4 years, works something like the following. Workforce development contracts are awarded to vendors that lack meaningful domestic United States workforce development experience. Those efforts fail. Local small business proposes proven research-based solutions while joining the Greater Memphis Chamber. The Chamber kicks the small business out of the Chamber while stifling the proposed solutions to fix failed workforce development efforts.
EDGE takes over failed workforce development initiative and doesn't hold regular board meetings while meeting every month to award excessive corporate/real estate tax incentives. Connected workforce development efforts suffer. EDGE arrogantly ignores formal state level reports in the Complete Tennessee report that documents Memphis/Shelby workforce development disconnects in June 2017. As a result, 60,000 learners go under-served for a community in need at a estimated cost of $10-15 Million in recurring Memphis/Shelby taxpayer shortfalls.
Other examples of the ongoing assault on Memphis/Shelby taxpayers can be found in a previously written blog that features the Memphis Tomorrow Fast Forward initiative that dis-served local public safety, workforce and economic development needs while using taxpayer funds.
Missed Opportunities – Low Hanging Fruit
While there are several requirements for coherent plan implementation, low hanging fruit exists to facilitate a quick start for connected 2019 Memphis/Shelby workforce development implementation. Examples include,1)  just the mere selection of a common commercially available job board such as Indeed or CareerBuilder to promote job openings and 2) a decision on the widespread use of a common occupational career readiness assessment such as ACT WorkKeys.
Its not going to get any better for connecting workforce development efforts than Indeed, the world leader in job board technology and ACT WorkKeys, the National leader, for occupational assessment. ACT WorkKeys has been adopted by the Strickland administration but unfortunately remains, for the most part, unimplemented. Other elements in robust web-based database technology are ready to go now as well.
On the other hand, CareerBuilder could be adopted for the job board. CareerBuilder works with EMSI who is part of the "shiny new" Talent Pipeline Management Washington DC, conglomeration to which Richard Smith of the Greater Memphis Chamber just punted workforce development again while stifling local small business. The challenge with CareerBuilder is that implementation costs for local business would likely be higher given the current heavy use of Indeed and the much lighter CareerBuilder use by local business. This conclusion is based on a comparison of current Memphis job listings on Indeed and CareerBuilder.
But in the end, for whatever reason, none of the above low hanging fruit opportunities were acted upon by the committee.
State Intervention / SCORE / Complete Tennessee
As previously written about, State intervention will be needed to confront that taxpayer assault of the arrogant elitist Crump like Memphis Tomorrow Corporate Community Leadership complex. The taxpayer assault looks more like kleptocractic "economic cannibalism" labeled as "economic development". In the absence of an investigative press and more rigorous legislative oversight, taxpayers in Memphis and Shelby County lack a check on the elitist Memphis Tomorrow complex. For this reason State of Tennessee intervention is needed.
Further, social justice organizations such as NAACP and National Civil Right Museum appear in many ways to be aligned with corporate interests. In Memphis, these organizations fail to object to policy and implementation practices that go to explode economic inequality while seeming to be distracted toward more symbolic endeavors. With a majority African American population, on a local basis, both the NAACP and NCRM would likely better serve their constituency and community, as a whole, by just becoming taxpayer advocacy organizations.
As far as the statewide educational organizations of SCORE and Complete Tennessee, based on the results, those organizations need entirely new representatives for Memphis. In fact, when the Complete Tennessee report was released, nothing was done locally in Memphis to address "labor market priority" concerns. SCORE is a high level educational policy organization and Complete Tennessee promotes increasing post-secondary completion rates. See below partial Complete Tennessee report findings: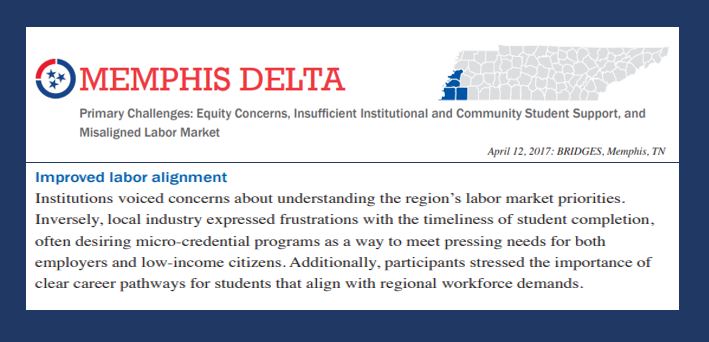 Any questions on why the workforce development disconnect exists in Memphis ?
Conclusion
There is no sense of urgency to address local workforce development concerns in Memphis all while local small business solutions to address the local need are stifled by the arrogant and elitist Memphis Tomorrow complex. Memphis Tomorrow Corporate Community Leadership lacks the will to educate its population or support local small business. And, there is no indication of an "economic opportunity for all" environment in Memphis. Any questions on why Memphis/Shelby economic development suffers and income inequality soars ?