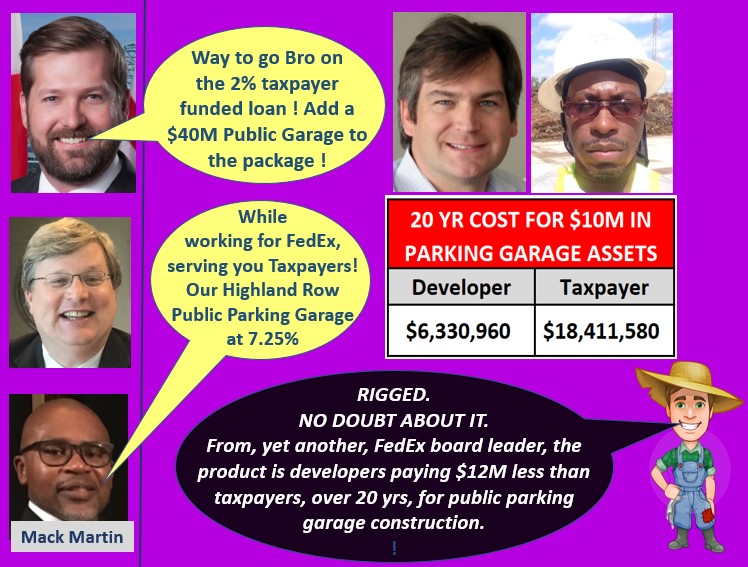 Get this. Over 20 years, taxpayers will pay $12M more than One Beale private developers, in Carlisle Development, for $10M in public parking garage assets. Its more elitist bullying of the taxpayer, in a majority Black community in need, carried out by a racially diverse public private complex.
This comes as the the Downtown Memphis Commission (DMC) loans taxpayer cash to Carlisle Development, using generous commercially unavailable terms, while the taxpayer borrows, at private placement rates, for Highland Row public garage construction.
Bully elitism is routinely occurring through appropriations, public parking financing and excessive incentives. Very recent appropriation examples include $20K by the DMC, for a Adams Keegan's "national search", that yielded local Paul Young and just this week $100K for Downtown's Innovate Memphis for a transit plan "update".
Bully elitism goes on and on. But why should, over 20 years, taxpayers pay $12M more for $10M in public parking assets than private developers? They shouldn't !
Private Placement

To make matters worse, in 2018, EDGE had $21M sitting on their balance sheet, that could have been loaned for public garage construction, at the time of this private bond placement. And today, $25M sits on EDGE balance sheets. All of these unrestricted cash assets sitting on board balance sheets seem to be reserved for the elitist Memphis Tomorrow "government efficiency" program, while taxpayers pay through the nose and get no benefit from such public funds sitting with quasi government agencies.
The private bond placement occurred under the Memphis and Shelby County Community Redevelopment (CRA) Agency and board leadership of McKinley "Mack" Martin, who also serves as FedEx senior counsel. CRA placed the bonds at 7.25% for 20 yrs, which are payed for by local tax dollars directed to support public parking infrastructure, in the Highland Row tax increment financing (TIF) district.
The former bond placement compares unfavorably for taxpayers, when compared to the terms taxpayers extended to Carlisle Development at 2% for 50 yrs for the $10M construction of a "public" garage with the private One Beale development.
The actual CRA Highland Row bond placement was for $12.5M. For the purpose of this $10M comparative discussion, using the table above and driven by the DMC $10M One Beale DMC parking garage loan, the annual bond payments were reduced by 20%, as shown in these CRA financials.
To that extent, for the next 20 yrs, taxpayers will pay $920K per year for $10M in parking assets residing on public balance sheets, while Carlisle private developers will pay $317K for parking assets on private balance sheets. Over 20 years, that represents $12M more for taxpayers. Or put another way, over 20 yrs:
300 at-risk post secondary students, per year, not served with wrap around services
30 small businesses, per year, not served with $10K each in forgivable loans
Transactions like this and many more are why Memphis does not move forward.
Conclusion
With no oversight, transactional bully elitism of a Memphis community in need, is happening all of the time, through transactions such as is discussed in this blog. With such elitist wealth transfers defining "economic development", no community will move forward, especially a Memphis community in need…..