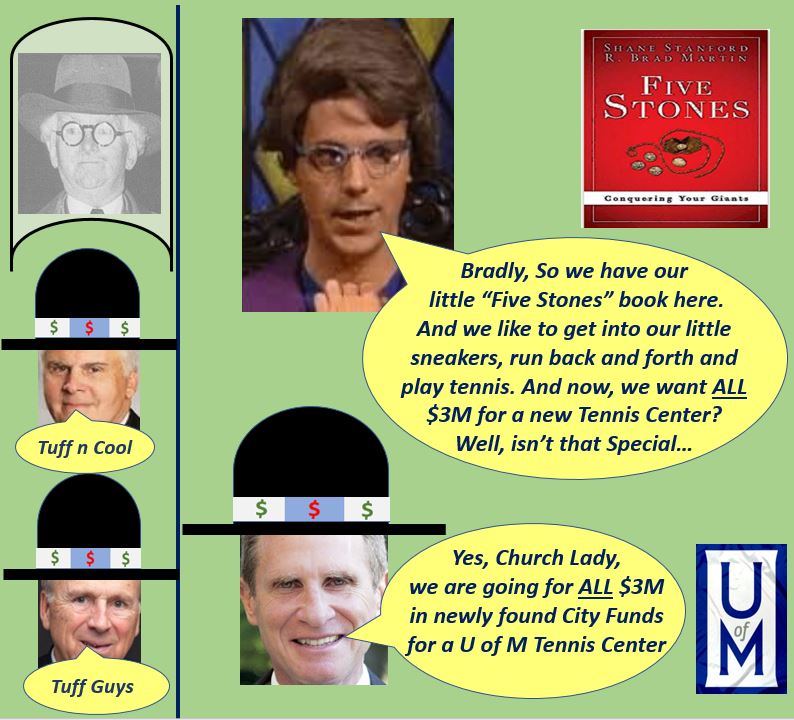 With all of the local needs, its really hard to square a full $3M for a University of Memphis (UofM) Tennis Center in a nice part of town. This comes after a new UofM FedEx/Memphis Tomorrow Board of Trustees took over the Board responsibility from the State Board of Regents, while promising community advocacy in research based economic development measurement and investigative journalism.
Neither promise has been upheld by the UofM with the abandonment of their peer city research platform on economic development measurement with The Memphis Economy Project and no investigative journalism stories have materialized that question local power centers.
Tennis Center – A Real Priority Even for the U of M ???
At the same time, the State funded UofM, has made a number of requests of the local taxpayer which have mostly been granted under the new corporate elite UofM Board of Trustees. But this new tennis center does not appear in the UofM Master Plan nor does discussion appear as of late by the UofM Board of Trustees based on an examination of their minutes. As $3M comes available, its seems it may have been on a private wish list of Board member Brad Martin, a known tennis fan.
What's interesting about the $3M tennis center request, that comes within a crowded field of well documented community needs and unfunded plans, is that the UofM Board of Trustees has not discussed the tennis center since December of 2017. Couldn't be that vital as UofM Board minutes only show the mere mention of a tennis center in October and December of 2017.
Confusing is  the October 2017 minutes that show an associated cost of a tennis center under a "future project" category as $3M (pdf pg 62).  Now the cost has sprung to some $19M per the Daily Memphian. What's up with that ??? And once local funding is appropriated, how are promised private contribution amounts to projects publicly monitored, if at all ???
With a non-investigative press and doormat legislative bodies, nobody ever questions these hacks which is why the community is so out of economic balance. This reality is not good for local business or economic growth. At any rate, here is a listing of local taxpayer funded project requests under the new UofM FedEx/Memphis Tomorrow Board of Trustees for the State funded University of Memphis:
– The Highland TIF – $21M (Awarded)
– Pool Renovation Project – $1M (Awarded)
– 2 residential PILOTs that that did not meet minimum EDGE requirements – $1.2M (Awarded)
– A new tennis center – $3M (Requested)
Grand Total: $26M
Conclusion
While some degree of increased local funding for a state funded institution might follow a transition from a state to a local board, C'mon Man ! The above is excessive. The above would be excessive regardless of any circumstance but especially after the UofM bailed on their local community advocacy promises.
As a UofM grad and avid supporter of the UofM, this conclusion comes after MRYE advocated for UofM community policy pronouncements only to see the UofM in legislative chambers when they were pursuing local taxpayer subsidies. This leaves the Memphis community without a public university voice on matters of increased balance in economic development matters under the backwards UofM FedEx/Memphis Tomorrow Board of Trustees.
While feeling overly generous, the City Council should feed the FedEx/Memphis Tomorrow UofM Board of Trustees taxpayer pigs with no more than $1M and tell them to get lost…..