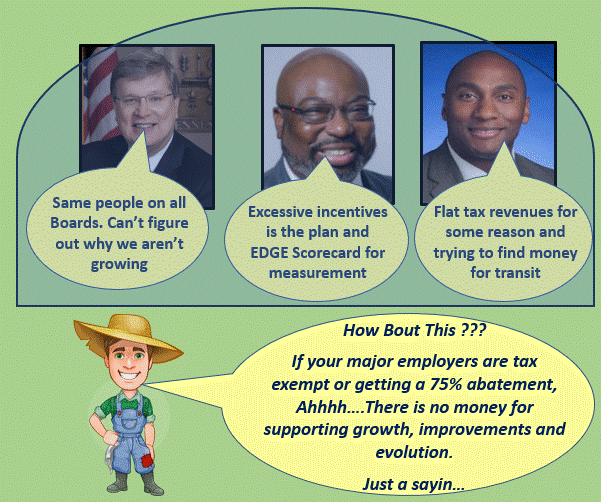 The Memphis/Shelby economic development plan is excessive corporate/real estate incentives. That's it. And measurement of taxpayer funded economic development work is occurring in a bubble. According to EDGE Board Chairman, Al Bright, the EDGE Scorecard, which has consistently been shown to be unreliable and bogus, is the Memphis/Shelby measurement tool for economic development.
On Wednesday, with barely a quorum of 5 of 9 members present, the EDGE Board approved a $38M tax abatement (5-0) for UPS and $3.6M Blues City Brewery abatement (4-0) with Al Bright recusing himself from voting. As a matter of note, neither Commissioner Lowery or Councilman Morgan were in attendance. With already existing PILOTs, under their belts in UPS and Blues City, neither of these capital investments are going anywhere else other than where they sit right now. We will dig deeper on these PILOTs later.
And meanwhile, after 2 years, with the existing failed Brookings FOCUS plan going unmeasured, still, there is no new economic or connected workforce development plan as excessive incentives roar for the benefit of the small few. Excessive corporate/real estate incentives is the plan, while runaway elitism leaves a community behind in the global economy.
Lower Expectations – "But For" Gone
Some local bloggers still rightly assert the "but for" criteria for tax abatements. The "but for" criteria is based on the philosophy that "but for the tax abatement the capital investment will not take place". "But for" imposes a much more stringent requirement on awarding tax abatements.
In reality, "but for" left the building in 2012 with the $25M Valero award for a plant, that for all practical purposes, cannot leave. This recent UPS abatement is a repeat of Valero in many ways for an expansion that would not occur anywhere else other than at the Airport where it sits today. And pretty much the same goes for Blues City which already has a tax abatement with a well established facility in Southwest Memphis.
But as expected, with an entity such as EDGE that is incented to award large tax abatements, one can predict that more stringent requirements like "but for" will be effectively nullified lowering the performance expectation to the detriment of the taxpayer. Lowering performance expectations for the public-private establishment is core to the FedEx/Memphis Tomorrow public-private complex. This lower expectation reality has been reluctantly accepted even by this blog by recognizing that "but for" is gone.
As a result, today, $42M in future tax revenue was abated for corporate/real estate interests. With, "but for" gone what is the standard ? Well there really isn't one. Seems all major employers are tax exempt or are getting a 75% abatement leaving no money to support growth and community evolution. But in the current environment, with "but for" gone, let's at least try and apply some standard to see if we can get any recognition of the taxpayer.
TIFNI – UPS and Blues City
With "but for" gone, the tax incentive fiscal note impact (TIFNI) platform recognizes the taxpayer by sizing tax incentives based on reliable economic and fiscal impact analysis while insuring that the taxpayer benefits at least as much as the corporate/real estate interest. Applying fiscal analysis insures that growth can be publicly supported while the taxpayer return helps the community competitively evolve by addressing local service gaps in for example workforce, transit and public safety.
In effect, while recognizing that "but for" is gone, TIFNI implements both a business and taxpayer friendly arrangement based on the philosophy "what is good for the taxpayer is good for business". In this way business growth can be publicly supported while bettering the workforce, transit and public safety for all.
UPS – When applying the TIFNI approach to UPS, the $38M abatement is $11M in excess and should be approximately $27M. Pretty business friendly for a UPS entity that was going to expand nowhere else. But what's in it for UPS ? They are better insured of a quality workforce, safer streets and better transit all of which helps the UPS bottom line while retaining UPS in Memphis for the long term.
Blues City- When applying the TIFNI approach to Blues City, with 155 new projected employees, the $3.6M abatement works for Blues City. But here is the problem. After promising 500 employees following ramp up, overall, Blues City has underperformed on their already existing PILOT by approximately $1.6M in resulting local tax revenue. This analysis was done using EDGE Performance Reports and Project Details.

Given this underperformance, the EDGE Board should have not considered the new Blues City project or at a minimum reduced the abatement from $3.6M to $2M while stringently enforcing employment and wage requirements on the new project in the future. At the same time, performance requirements have not been enforced on this project while the EDGE Chairman, Al Bright, recused himself from voting.
But even with the underperformance, TIFNI could manage to see a $2M abatement for the new Blues City project. Not bad for an underperforming project and pretty business friendly for a Blues City project that is going absolutely nowhere else.
Conclusion
Clearly, with flat tax property tax revenues, Memphis/Shelby tax incentives are excessive leaving the taxpayer and the poor holding the bag. TIFNI provides a business and taxpayer friendly approach to tax incentives while effectively measuring public-private partnerships for the customer taxpayer.
Additionally, given the findings of this analysis, governmental entities should directly fund, manage and oversee performance auditing away from the EDGE fox guarding the chicken house approach while implementing the business and taxpayer friendly TIFNI platform.
And appointing different people to local boards would likely help evolve local thinking. Mayor Strickland just reappointed Al Bight, Johnny Moore and Mark Halperin to the EDGE Board where they may serve as long as 16 years ! More of the same. So Sad. Also, Carolyn Hardy was just appointed to, yet another board, in the St. Louis Fed Board. B-O-R-I-N-G !!!
Anyway, the idea of real measurement in Memphis is highly revolutionary. All of the above gets measurement out of a bubble while recogning the taxpayer as the customer in publicly funded community and economic development work. So, what can it hurt ? Why not give real measurement and the potential for subsequent economic growth a try……