In a nightmare scenario for any city, Memphis problems and standards for performance start at the top with Memphis Tomorrow. Memphis Tomorrow is a local CEO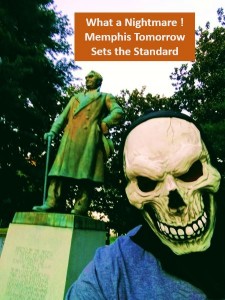 organization, founded by Joseph Reeves "Pitt" Hyde III, that cloaks itself as a community / economic development organization. But the organization is way down in its categories of public safety, workforce and economic development while their non-profit initiatives feast upon a cauldron stew using your tax dollars from federal, state and local sources.
All the while, caped under the label of "economic development", excessive locally targeted corporate / real estate tax abatements under the Memphis Tomorrow EDGE initiative flourish for the benefit of the few at the top as local small business vitality declines, Shelby County growth lags its peers and income inequality explodes.
Based on what has been researched, this dreadful Memphis Tomorrow Fast Forward initiative performance can be shown to cost Memphis/Shelby taxpayers $124M per year. Frightening is the lack of alarm by local community leaders and rigorous oversight of Memphis Tomorrow initiatives. This appears to be because decline and poor performance have been going on for so long that it has been culturally normed. Leaders that only know Memphis, mistake the social hierarchy of Memphis Tomorrow for community and economic development proficiency.
Memphis Tomorrow can best serve Memphis by providing a $1.5 billion immediate contribution in full up front to the City, stop rigging up the community for decline and shutting down. This will fulfill Memphis Tomorrow promises by providing funds that will help bring the local ecosystem up to average.
DISCONNECTED
Spooky, this normalcy of decline, fueled by low expectations, was evident in a recent Commercial Appeal story. Duncan Williams, a local community leader, said that commenting on the future plight of Memphis Tomorrow is "above my pay grade". Apparently disconnected from reality, Williams is clearly enchanted by, and yielding to,  the local social hierarchical construct while not fighting for the taxpayer for an end to Memphis Tomorrow.
Further, also mentioned in the CA article was Spence Wilson Jr. of the Greater Memphis Chamber Chairman's Circle and Kemmons Wilson Companies. With trend data in hand, regarding local taxpayer funded initiatives under corporate community leadership, I requested a meeting with Wilson about a 1.5 years ago while questioning leadership effectiveness. Wilson, apparently disconnected from reality as well, like so many in the community leadership complex, declined to meet with me. Instead, Wilson wrote in part through email the following:
"I disagree with your overall assessment of where we are as well as the validity/effectiveness of some of the groups you mention. And, given what little I've experienced but more of what others have shared regarding their dealings with you, I doubt your ability to be a uniter. Uniting together as a community has been the key ingredient with humility, trust and mutual respect being some of the key values. Above all, each participant has had to EARN the respect of others every step of the way."
Wilson's observations are understandable. Needed confrontation to bust up what is working for a small few and Not for the overall good, is rarely, if ever viewed as uniting or humble by establishment figures such as Wilson. On the other hand, his arrogance towards the taxpaying public is evident in implying that a taxpayer must "EARN" (in all caps) their right to question the performance of taxpayer funded initiatives. With that, the question now, for Wilson 1.5 years later, with the same Memphis Tomorrow community / economic development complex in place, "Where are we now?". Wilson also serves on the National Civil Rights Museum (NCRM) with Pitt Hyde. The NCRM will be discussed later.
It should also be stated that Jack Moore, a former banker and Wilson's in-law, serves on the EDGE Board. The diverse EDGE Board has systematically awarded locally targeted corporate / real estate PILOTs using bogus, incomplete accounting that overstate tax revenue generated by an estimated $850M at an estimated loss to taxpayers of $250M+ while claiming an estimated gain of $600M. EDGE uses an accounting methodology that eerily recognizes existing tax revenue as new revenue in many cases.
In a shocking performance, Moore took over the Greater Memphis Alliance for Competitive Workforce (GMACW) initiative as its new Board Chairman under EDGE. Moore managed to only have 1 GMACW meeting in the past year while he met every month with the EDGE Board to administer corporate / real estate tax abatements. So much for education and workforce development for a community in need, under Moore, who is part of the Wilson clan.
As far as the benefits of diversity on the EDGE Board, the benefits of diversity are overrated in this case. To correct this, I would prefer a new diverse or non-diverse and professionally balanced EDGE Board that would implement balanced economic development policy. A professionally balanced non diverse board would consist of all black females or males or all white females or males. Or, a new professionally balanced diverse board would work as well, as long as it replaces the EDGE Board in place now.
THE HORROR SHOW FILTERS DOWN
There is no sense of urgency in Memphis – NONE. Horrifying, deficient community leadership proliferates throughout the system starting at the top, with Memphis Tomorrow. As an example, almost 2 years ago, Transit Funding – Memphis Deserves Great Transit was published. The study confirms inadequate funding challenges local transit.
Adequate transit supports poverty reduction, workforce reliability, community competitiveness and sustainability. But the "visionaries" of Memphis Tomorrow have yet to publish a funding policy position for adequate public transit. At the same time, the NCRM where Hyde and Wilson are both board members, have yet to publish a position either. NCRM states on their website that they, "examine today's global and civil rights issues, provoke thoughtful debate and serve as a catalyst for positive change". Go figure….
Further, a new EDGE Board is needed as a fundamental system check for a tax abating board. Memphis Tomorrow advocated for the creation of an EDGE Board that did not protect the public interest in board member term limits or legislative approval for economic modeling used to justify excessive corporate/real estate tax abatements. Excessive tax abatements have gone to undermine the tax base of a community in need, as income inequality explodes and small business vitality declines.
While there are several examples of excessive abatements, one example involves Nike, currently running a social justice ad campaign. Currently,  through an EDGE retention PILOT tax abatement, $50M in wealth is being transferred from one of the most impoverished communities in Memphis (27%), to one of the least impoverished in Portland/Beaverton Oregon, (13%) where the Nike headquarters is located.
Frightening, while it seems everyone was for the social justice found in statue removal (symbols over substance), a number of local advocacy organizations lack public policy positions on substantive issues that can help reverse poverty, small business vitality and slow economic growth trends in, for example, a new EDGE Board or public transit funding. Those organizations that lack public positions include: Memphis Tomorrow, Greater Memphis Chamber, Shelby County Chamber Alliance, EDGE, NCRM, Black Business Association, NAACP and MLK50 to name just a few.
Ghastly is when advocacy organizations don't advocate on substantive issues for a community in need while yielding to the status quo at the top and seemingly in this case to Memphis Tomorrow. In a way it seems the Memphis Tomorrow complex demands allegiance to a social hierarchy of nonperformance that has mastered the mechanics of control while failing miserably in the art of evolving the community ecosystem.
At any rate, in this analysis, social justice organizations are overrated. By the way, can we get some transit in here if we move the Crump statue? Don't bother, it won't work.
THE PRESS
Terrified, the Memphis press won't write about the paralyzing outcomes of Memphis Tomorrow or even call for a new EDGE Board.  It must be stated that the Memphis decline has systematically occurred without an external event while spanning elected official's terms over the past 15 years.
This points to a deficient corporate community leadership culture as Memphis leads the country in both nonprofits per 10,000 population and poverty. That should raise a huge, blood red flag , but it really doesn't. It's a system that is designed from the top to decline. Lacking press and rigorous legislative oversight results in a rigged system that lacks needed vitality to support economic growth.
CONCLUSION – GOOD NEWS !
There is good news and it's not coming from the highly deficient Memphis Tomorrow corporate community leadership complex. Its coming from the people in groups like Memphis Raise Your Expectations (MRYE). MRYE is leading voter discussions while laying out economic development positions that question real power when no one else will. MRYE is leadership while the likes of Hyde, Williams, Wilson and Moore seem to mistake leadership for a lack of advocacy and  bureaucratic conformity to a rigged, Crump like social hierarchical system that is not working.
See my videos and blogs at – http://mcclmeasured.net/resources/
ABOUT MCCL MEASURED
Memphis Corporate Community Leadership (MCCL) Measured is the first ever, and currently exclusive tool for measuring the effectiveness of the Memphis Corporate Community Leadership complex.