The MWBE Dashboard is a locally owned small business (LOSB) innovation and is designed to get Memphis out of the stone age with regard to measurement. Version 1 of the dashboard provides the community with visibility to measure the effectiveness of MWBE social justice programming in context with taxpayer justice in a majority black Memphis community in need. In order to provide this service, MWBE transactional data must be centrally compiled and analyzed within a relational database. Unfortunately, only EDGE publishes MWBE transactional data resulting in a lack of communitywide transparency related to local MWBE programming. To that extent, EDGE data has been compiled and is shown below. MWBE programming has been used to help justify excessive corporate/real estate PILOTs for EDGE, DMC and other abating boards.
Top 25 MWBE Report
This report lists the EDGE Top 25 MWBE Vendors in receipts from 2016-2019. The data was sourced from EDGE compliance reports posted on individual PILOT webpages. Concerns in the report relate to the high amount receipts for WBE and Outside companies. Outside companies are those companies based outside of Shelby County. Additionally, it appears the bulk of MWBE receipts went to highly, long established and in many cases affluent local businesses. These are the type of local business that corporations would likely elect to do business without MWBE programming. The average business life of the top 25 MWBE receipt companies is 33 years signaling highly established local businesses benefitting from MWBE. Below is a snapshot of the top 25 companies where Kathy Buckman Gibson's KBG Technologies received the largest MWBE receipts based on EDGE compliance documentation from 2016-19.
Here is a complete printable report .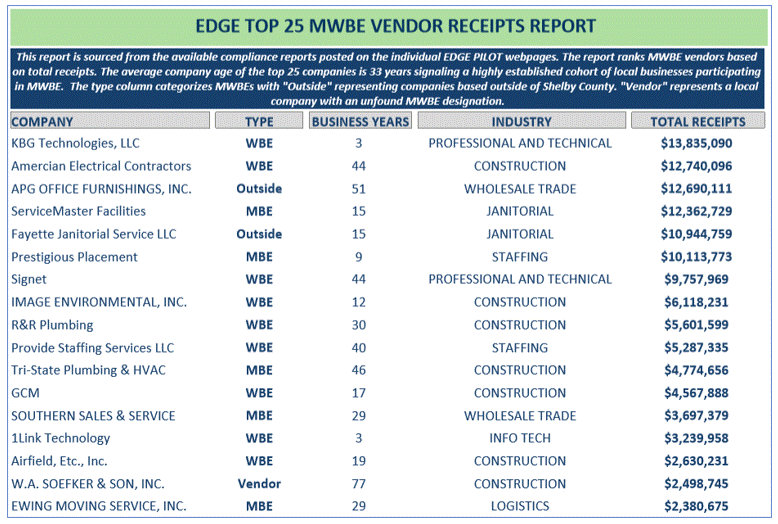 MWBE Momentum Report
The EDGE MWBE Type Momentum report communicates receipt momentum by MWBE type and by year between 2016-19. The concerning element of this report is the explosion in WBE participation and again Outside Shelby County participation. BDO, the large New York City based accounting firm, was found in one of EDGE's compliance reports for MWBE transactions. BDO is classified as a "Vendor" which is typically justified by being an approved vendor for a governmental body.
Here is a complete printable report.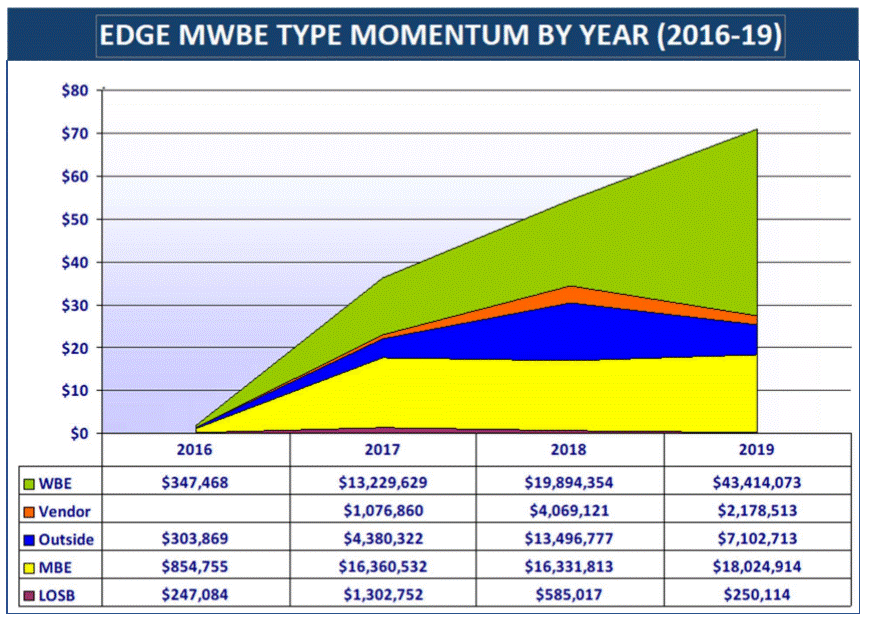 MWBE Type Receipts Report
This report shows total EDGE MWBE receipts by type from 2016-19.
Here is a complete printable report.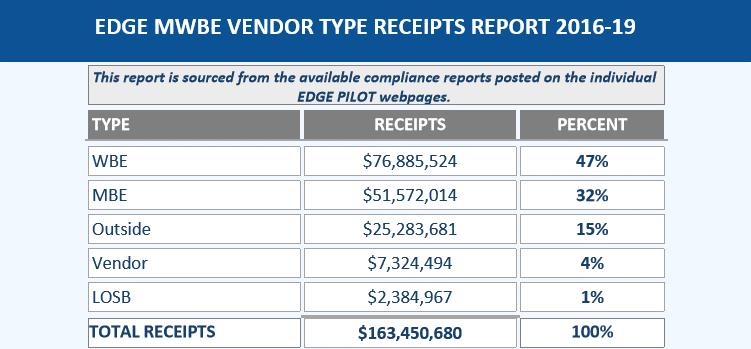 MWBE Industry Report
This report shows EDGE MWBE receipts by industry.
Here is a complete printable report .