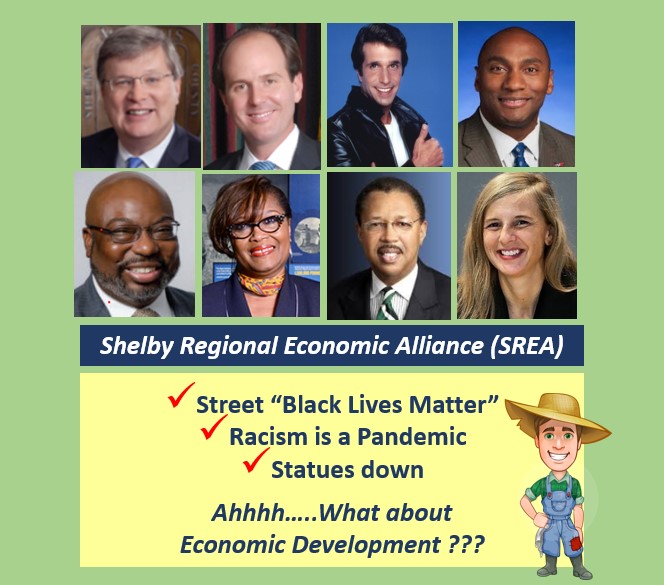 What's up with the Shelby Regional Economic Alliance (SREA)? While "Crump era" Fonzie is still around, not much. With upcoming consideration for a part of Poplar being renamed "Black Lives Matter", progress with economic development is just not happening, 1.5 years after the establishment of the SREA.
There is no SREA website or economic development plan. And meeting notices for the public body, just don't seem to happen. With an increased emphasis on small business development, the most simple economic development plan solution was/is merely just to measure, implement and evolve the 2014 Brookings FOCUS plan that was never implemented. But that has not even happened, as excessive corporate/real estate tax incentives roar for the benefit of the small few and public structural revenue problems persist.
While prioritizing workforce development, the FOCUS plan set out to industrially diversify beyond logistics and more into professional technical, advanced manufacturing and agriculture.
Additionally, small business and workforce development remain the primary pain points for local economic development. And the SREA has no Board representation exclusively focused on small business, workforce or areas outside of Memphis within Shelby County.
Isn't it strange how the local press has failed to substantively follow up on the SREA? Anyway, this blog will explore current SREA Board representation to provide potential clues for a lack of economic development progress.
Shelby Regional Economic Alliance (SREA) Board
The SREA is made up of representatives from the City, County, EDGE, Memphis Chamber and Downtown Memphis Commission.
City of Memphis. At one point, former Councilman and real estate developer Kemp Conrad served as one of the City's designate Board members. Conrad's firm, Cushman and Wakefield, has recently been involved in some of the most excessive and egregious PILOT applications before the EDGE Board. These approved PILOTs in Mark Anthony, LeSaint Logistics and DHL were all for low wage warehousing jobs while abating property taxes for both existing and new construction. Combined, these PILOTs total $10M. When research is applied, these PILOTs are 365% in excess and should have totaled approximately $2M and not $10M. Clearly, Conrad wants more of the same as a local real estate developer.
As far as Mayor Strickland on the SREA, he robotically says "momentum" when economic development discussions arise. That's about it.
Downtown Memphis Commission. Jennifer Oswalt represents the Downtown Memphis Commission (DMC) on SREA. DMC generates fee revenue, on total project costs of 1% for 10 yr or less PILOTs and 1.5% for PILOTs more than 10 years. DMC PILOTs, for urban renewal, are excessive when benchmarked against other cities, in term length. In this way, DMC excessive PILOT term lengths can, in part, be explained, through the DMC fee structure, that financially incents DMC to award more than 10 year PILOTs. Additionally, based on a review of DMCs audited financial statements, DMC has $33M in cash/liquid assets against only $9.2M in annual expenses. DMC is financially incented for economic development policy to stay unchanged.
Economic Development Growth Engine (EDGE). EDGE is represented by corporate lawyer, Al Bright on SREA. EDGE collects capped fee revenue on every PILOT awarded based on the total amount abated. In many cases, larger abatement awards, with the additional inclusion of the abatement of existing property taxes, increase EDGE's PILOT fee. EDGE is financially incented for economic development policy to remain unchanged while justifying PILOTs with MWBE participation that can be shown to be an elitist sham. EDGE finished 2019 with $24.5M in cash/liquid assets against $9M in expenses.
Memphis Chamber of Commerce. Beverly Robertson represents the Memphis Chamber on SREA. Robertson came up through the local corporate ranks of Holiday Inn with the Kemmons Wilson family and worked as CEO with Memphis Tomorrow's Pitt Hyde for the National Civil Rights Museum nonprofit.
Robertson's public comments tout a common talking point that Northern Mississippi is a major economic development competitor of Memphis and Shelby County. This talking point corresponds with the justification for a large number of local PILOTs to avoid operational departure for Northern Mississippi. This is unfortunate as North Mississippi is both a local competitor and a regional economic development partner. This, on balance, makes N. Mississippi a wash with respect to local economic development. In fact, the recent Google expansion into N. Mississippi should be locally celebrated.
Shelby County Government. Shelby County Government, in part, is represented by Willie Brooks who works for corporate giant FedEx. Brooks' EDGE Task Force authored the creation of SREA while effectively leaving EDGE unchanged. This would indicate that Brooks is content with current corporately driven local economic development policy. And Mayor Harris, the other County SREA representative, seems content with Reid Dulberger, Chief County Economic Development Officer, setting local economic development policy.
Conclusion
With no small business, workforce or external to Memphis representation, the Shelby Region Economic Alliance Board is set up to produce more of the same.
The racially diverse SREA is, in many ways, a carryforward of Crump era Memphis Tomorrow elitism. Maybe that explains SREA inaction. After all, things haven't changed much in 20 yrs under Memphis Tomorrow…..