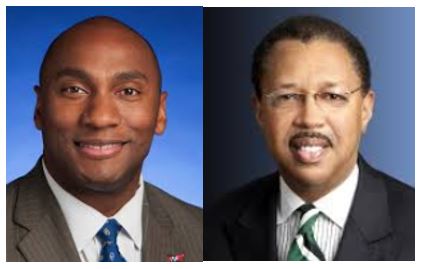 Greater public sector leadership is needed in defining economic and workforce development for the public good  within the context of public-private partnerships and the funding for the Memphis Business Attraction and Retention/Expansion Joint Venture Agreement .
Strong corporate executive leadership and vision have often been touted as a defining differentiator in such economic development work but has fallen flat in Memphis/Shelby County. Fallen flat with botched economic development efforts over the past 8 years that have stifled the primary drivers of any local economy in small business and workforce development as corporate/real estate and nonprofit interests are prioritized for the benefit of the small few.
It's a fact that economic development agencies, over the past 8 years, in the  Greater Memphis Chamber (GMC) and Economic Development Growth Engine (EDGE), have yet to articulate a joint definition for "economic development" or "career readiness" to support economic / workforce development. This goes back to the question raised by Ron Belz in EDGE Ad Hoc where he asked "What is the definition of your goal and how are you going to measure it?". With this question still unanswered, direction by the public sector is needed.
Unfortunately, public officials have yet to take up an on the record discussion in defining the former. The discussion surrounding or answers to the questions of "Why has Memphis fallen so far behind in the very global economy it cradles?", "What is economic development?" and "What is career ready?" seem thus far to be a mystery in Memphis/Shelby County. Not taking up the former questions on the record, leads the community down the path of listening to the same incompetent voices and more of the same.
To that extent, the current resolution of $150,000 in support of EDGE lacks definition, guidance and lessons learned rationale to serve the public good.
Recent Headlines
Given recent headlines, greater definition and defined measurement is needed in a public-private landscape that is rich with "clerical errors" based on under assessed property and MWBE with the City of Memphis data, HUD, non-disclosures of elected officials, broken rules by abating boards, and bogus incomplete accounting as featured by the EDGE Scorecard regarding retention PILOTs.  Headlines signal a public-private landscape void of values and ill equipped to serve any community and more specifically a Memphis community in need.
Further, the closed Memphis system and fake economic development "disruption" is evident in the membership of the Economic Development Advisory Board with no change in the players and none of the members ever having gone on record against a specific public incentive with the exception of, on rare occasion, Councilman Martavius Jones.
And with regard to the recent Chamber reports and headlines regarding the Memphis Metropolitan Statistical Area (MSA) that includes parts of Arkansas and Mississippi regarding employment gains, the latest report of the Bureau and Labor and Statistics (BLS) Quarterly Census of Employment Wages (QCEW) tells another below average trend line story.
The BLS QCEW data ending in Q3 2018, that includes both employment and wages paid which results in tax revenue, reveals the following accumulated wage and tax revenue shortfalls versus Shelby County's peer average and national data growth rates: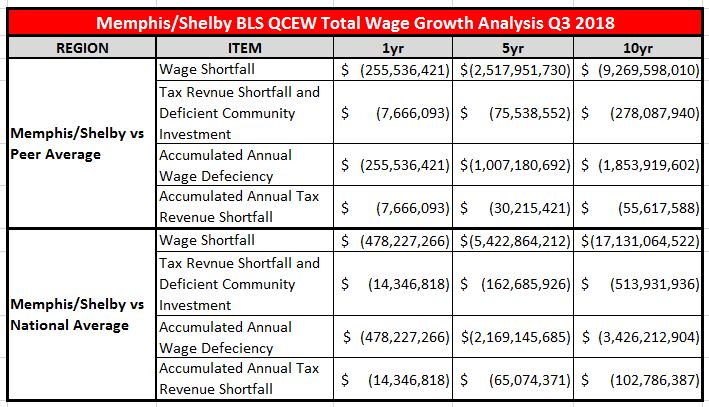 See spreadsheet here and tab "031819"
The above accumulated tax revenue shortfalls reveals the source of  a declining Memphis/Shelby ecosystem over time due to deficient total wage growth and subsequent tax revenue funded community investments under a closed FedEx/Memphis Tomorrow/GMC decline by design economic development system. These tax revenue shortfalls are further irritated by an additional estimated $200M in total tax losses that come from an excessive EDGE retention PILOT program that transfers challenged community wealth to corporate/real estate interests justified using bogus incomplete accounting.
Most of the deficient total wage growth can be attributed to a culturally closed social construct that prioritizes corporate/real estate and nonprofit interests for the benefit of the small few while closing out the primary economic driver of  small business and minimizing education and workforce development. To that extent, the following recommended amendments are suggested for the resolution to better support more robust, balanced economic and workforce development efforts with supporting lessons learned rationale:
Resolution Amendments
WHEREAS,  "Economic Development" is defined as "a process to improve the social well being of people" and will be measured by Shelby County Government using total wage data as provided by the Bureau of Labor Statistics (BLS) Quarterly Census of Employment Wages (QCEW) versus Shelby County peers as identified by The University of Memphis and The Memphis Economy; and
WHEREAS, a career ready workforce is vital to economic development efforts, a "career ready" individual will be based on the completion of a high school equivalency and/or post-secondary credential, a Silver level ACT National Career Readiness Certificate (NCRC) and the completion of a  career plan; and
WHEREAS, more voices from the public, that are informed on incentives,  outside of the corporate/real estate/political establishment are needed on the Economic Development Advisory Board to present dissenting argument for the benefit of small business and the overall public good as the named members have historically represented corporate/real estate interests and rarely if ever opposed a specific tax incentive on the record while the GMC has no small business growth goals and hasn't for years; and
WHEREAS, the Advisory Board membership is a product of "more of the same" and fake economic development disruption and requires new voices to provide the community the vitality to grow which is the very vitality needed that the FedEx/Memphis Tomorrow/GMC complex routinely stifles; and
WHEREAS, "small business" is not mentioned in the Memphis Business Attraction and Retention/Expansion Joint Venture Agreement, which further underscores the lack of emphasis on small business as corporate/real estate and nonprofits are emphasized by the FedEx/Memphis Tomorrow / GMC complex; and
WHEREAS, it must be understood that the majority of the Memphis/Shelby deficiency in total wage growth can be attributed to a dismissed small business sector and botched workforce development efforts and that appropriate informed representation is needed on the Advisory Board to represent small business and workforce development; and
WHEREAS,  the FedEx/Memphis Tomorrow/Greater Memphis Chamber has botched workforce development in Shelby County over a period of 4 years by stifling small business proposals made by PathTrek, a local sole proprietorship, in favor of a foreign contract award and remote vendors; and
WHEREAS, to help both small business and workforce development efforts, the Shelby County Commission will direct private concerns to engage PathTrek, which is only one of  thousands locally shut out small businesses by the closed Memphis business culture, to facilitate connected workforce development efforts based on the PathTrek proposal submitted to Commissioner Willie Brooks per his request; and
WHEREAS, effective measurement is critical to economic development efforts, a rescoring of the EDGE Scorecard should be undertaken to apply complete accounting methodologies for retention PILOTs and potentially other matters which may include a rescoring for warehouse expansion PILOTs based on research of the Economic Institute; and
WHEREAS, a Shelby County Commission review of all 9 abating boards will commence in April 2019 and the findings of the Commission will be put on record with the Economic Development Advisory Board; and
WHEREAS, as a new EDGE Board is immediately needed that reflects more professional balance from across the economic development spectrum to include education, workforce, small business and transit; and
WHEREAS, The Amazon Road Map policy pronouncement of the University of Memphis shall be adopted as a framework to guide economic development efforts while knowing that "strong corporate executive leadership" in matters of economic development policy development is entirely overrated in Memphis and Shelby County; and
WHEREAS, Shelby County already has a research base that should supersede any external research base in knowing what does not work which would end retention PILOTS, residential PILOTs and unneeded TIFs in affluent unblighted areas with responsible PILOTs for industry recruitment and large expansions continuing.
Conclusion
These amendments will provide the Memphis Economic Development Advisory Board with better and more specific direction from Shelby County government.