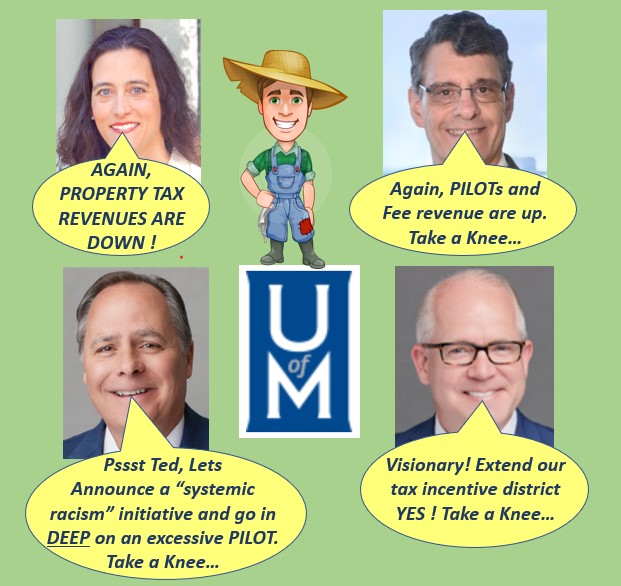 Shelby County Chief Financial Officer, Mathilde Crosby, sounded the alarm in County Commission testimony on Wednesday. Crosby testified that property tax revenues were down from 2019, yet again, this time in 2020 by $7.1M. Meanwhile, back at the ranch, EDGE is approving $38M in new tax incentives.
The most excessive PILOT of the day, in relationship to net taxpayer benefit, was the University of Memphis (UofM) supported, Poplar Plaza PILOT. Over the term of the PILOT, Poplar Plaza will generate $2M less in property tax revenue than it currently generates.
True story, in a letter (pg. 11) endorsing the Poplar Plaza PILOT, Ted Townsend, UofM Chief Economic Development Officer, said the following:
"The project [Poplar Plaza] is not located in the current Highland Revitalization TIF Boundary, however our support of a PILOT incentive remains the exception rather than the rule."
Here is the real deal. Based on the UofM's partnership with EDGE, they systemically support a culture of excessive incentives and corporate elitism, while coincidentally ending their peer city economic development measurement research project, without stated cause. Such a platform would reveal that excessive incentives are not working as an economic development policy.
The exception is that the UofM writes formal letters, when PILOTs directly benefit UofM area development plans. That's all. The UofM endorsed two PILOTs at the EDGE meeting that effectively extends their current tax incented Highland development district.
Two UofM area PILOT approvals follow $26M in local tax incentives and grants benefitting the UoM, since the installment of the new local UofM Board of Trustees in 2016. This $26M includes, $3M for an elitist $19M tennis center, that City of Memphis taxpayers were bullied into funding, without hearing competitive proposals.
This UofM supported PILOT comes, right on the heels, of a newly announced UofM local "systemic racism" initiative. Stomach churning and weird ass timing for an Elitist and excessive PILOT, to say the least.
Analysis
EDGE approved 5 PILOT projects on Wednesday in Aesthetic Management, RDX, DHL, University Apartments and Poplar Plaza totaling $38M in abatements.
Based on an application of Dr. Timothy Bartik's tax incentive research, these approvals are in excess by 102% or $19M. The former occurs as EDGE is projected to collect $804k in fees for awarding these excessive incentives. Bartik research collectively considers the tax revenue impact of wages and capital investment.
EDGE is doing what they are financially incented to do; award excessive incentives. See the problem ?
The Aesthetic Management and RDX PILOTs work for the taxpayer, while University Apartments, DHL and Poplar Plaza are excessive. See below summary taxpayer benefit analysis ranking, from best to worst by the "Excess" column, for a busy EDGE day. Bartik research is applied under the "Right Abate" column:


But there is more. EDGE gets help from the local press.
Unreliable Daily Memphian
Beyond slant, the anonymous donor led Daily Memphian, is an unreliable news source for a variety of reasons. Here is an example. The Daily Memphian led with the following in their EDGE story:
"Five companies received a combined $37.6 million in local property tax breaks in return for making capital investments totaling $162.5 million, creating 318 jobs and still paying $38.3 million in Memphis and Shelby County property taxes during the terms of the tax reductions."
In this attempted Daily Memphian analysis, regarding only commercial property tax revenue, $38.3M is not even close. The 5 PILOTs approved, will generate $15.1M in PILOT payments over the term of their abatements. Further, in exchange for $37.7M in tax abatements, only $5.5M in net new commercial property tax revenue will be generated over the abatement terms. See below table analysis:


And if the above is not enough, The UofM has an investigative news partnership with The Daily Memphian. Go figure….
Conclusion
Runaway corporate elitism is the chief problem; not systemic racism. Dr. M David Rudd, President of the UofM, said in the Commercial Appeal, "It is clear that Memphis needs us." No they don't !
Memphis does not need a public University, that has a corporate Board of Trustees, without thought diversity, that enables runaway corporate elitism on the back of a majority Black community in need.
And, after 20 years of them, Memphis does not need, yet another, elitist "systemic racism" initiative…..