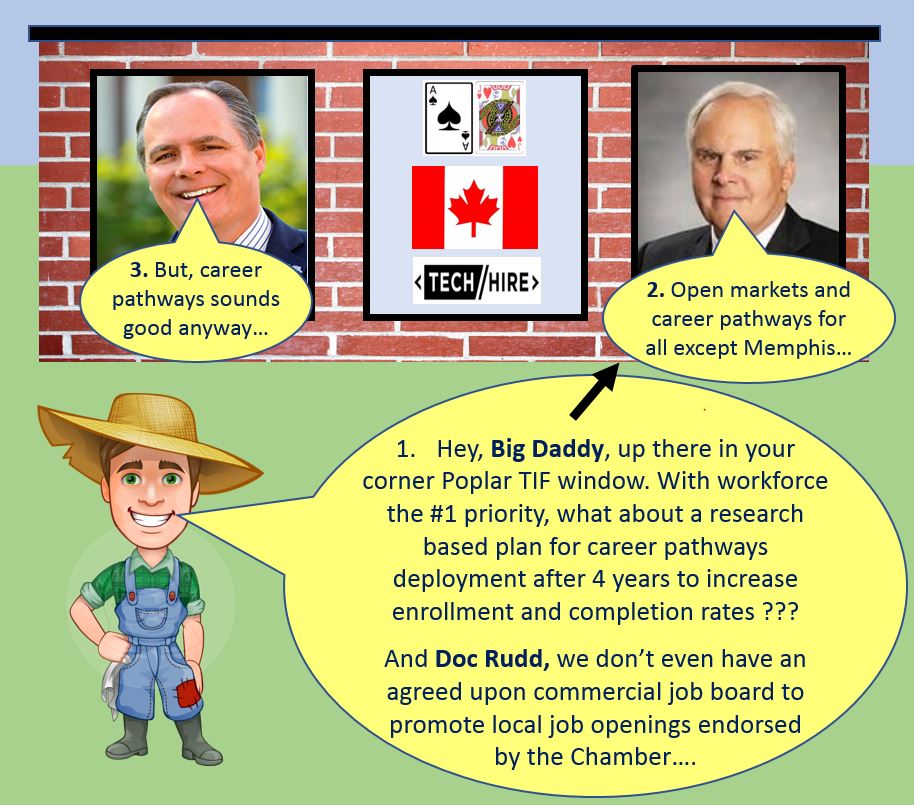 The Communitech economic development research collaborative launched on Thursday. The University of Memphis (U of M) collaborative has aims to become a Carnegie R1 research institution in five years which is the pinnacle University research recognition. Such a recognition stands to attract researchers from around the country which is good for Memphis.
In his Communitech opening remarks, Dr. David Rudd discussed the need for "career pathways" for the community. Problem is the University of Memphis along with its primary partner in FedEx and Fred Smith along with Memphis Tomorrow, Chamber and EDGE  have obstructed locally owned small business from bringing solutions to market to connect career pathways solutions for a Memphis community in need. In Memphis, "career pathways" is just a buzz word without coherent published data to guide career pathways deployment, linkage of career pathways to quantifiable projected employer demand or the availability of a research based plan to define and integrate career pathways planning into the standards based academic curriculum.
Disconnected workforce development systems in Memphis persist after four years of corporate led government funded nonprofit efforts have failed to deliver connected career pathways services. While business involvement is desperately needed in education, the business community has just not executed for taxpayers.
Disconnected efforts come on the back of non-domestic experience and a foreign contract award while Memphis squanders a primary economic development asset in its youthful population. This disconnected career pathways system leaves the University of Memphis and other local institutions with free 2 year post-secondary education without a connecting pipeline to increase enrollment and program completion to serve employer demand.
Career Pathways
The Memphis career pathways disconnect persist following a range of meetings with presented locally owned small business solutions to University of Memphis, Greater Memphis Chamber and FedEx representatives. None of these entities took any known action that would resolve disconnected workforce development efforts in Memphis that have persisted for 4 years following state grant funding to address the local challenge.
Further, I wrote a favorable blog, touting the remarks Dr. Rudd made earlier in the summer, at the Memphis "Age of Agility" educational conference while proposing a solution to connected workforce development efforts in Memphis. The blog was dismissed by the elitist corporate establishment as Memphians and their students were deliberately saddled with disconnected workforce development services for the 4th school year in a row. The local Memphis population as well as U of M graduates are routinely dismissed and shut out by the elitist establishment as they feed on a community in need through excessive tax abatements – while not advocating for needed service delivery –  and while championing the closed Memphis social construct of the ineffective corporate led nonprofit community that thrives while using taxpayer dollars.
The local Memphis Corporate Community Leadership complex and apparently the University of Memphis have a proclivity toward dealing with Canadian learning providers. There is nothing wrong with partnering with Canadian companies provided they deliver needed services. But Canadian efforts  have not delivered as locally owned small business, domestic expertise and the needs of 60K learners are systematically dismissed by the elitist Memphis establishment. Forget about local small business for a moment. Proven domestic American providers that can deliver are not good enough for the elitist Memphis establishment. This disservice results in slowing economic growth at an estimated recurring taxpayer cost of $15M per year while costing local business millions.
Elected Officials
In many ways, elected officials are left hanging, as the Memphis elitist business establishment systematically obstructs connected workforce development efforts. And the Greater Memphis Chamber has yet to articulate an alignment protocol on behalf of employers to communicate their needs to the workforce development system.
Apparently, terrified of a solution to connect workforce development efforts, the Chamber stifles locally owned small business solutions to connect efforts while kicking solution providing members out of the Chamber without cause and not making their Chamber bylaws available to membership. This occurrence serves as a data point indicator of the closed Crump like elitist system in Memphis that chokes off economic opportunity for all.
But overall, City Council and County Commission efforts have gone nowhere to resolve the disconnect in the face of business community obstruction as business community leadership is fundamentally needed to connect career pathways efforts.
Greater Memphis Alliance of Competitive Workforce (GMACW)
The local business community in Memphis under the leadership of Memphis Tomorrow, a CEO organization founded by Joseph Reeves "Pitt" Hyde III and a Greater Memphis Chamber Chairman's Circle initiative, launched GMACW in 2014 to align local educational efforts with regional employer demand. GMACW remains a desperately needed initiative but it needs to execute for taxpayers.
In 2014, the State of Tennessee funded GMACW with a Labor Education Alignment Program (LEAP) grant to help align local career pathways programming with employer demand. But the initiative sputtered, hampered by a foreign Canadian contract award, strangely, in conjunction with the Federal Tech Hire award that was to increase domestic citizen employment in tech jobs. As the initiative struggled, instead of course correcting to facilitate needed service delivery of connected workforce development services with available locally owned small business solutions, Hyde dismissed the solutions and participated in the establishment of, yet another, nonprofit in Complete Tennessee.
Soon after the establishment, Complete Tennessee in 2017 reported, regarding the Memphis Delta region that,  "Institutions voiced concerns about understanding the region's labor market priorities. Inversely, local industry expressed frustrations with the timeliness of student completion, often desiring micro-credential programs as a way to meet pressing needs for both employers and low-income citizens. Additionally, participants stressed the importance of clear career pathways for students that align with regional workforce demands."
In effect, the report states the LEAP grant did not deliver for the local community. GMACW was then moved under The Economic Development Growth Engine (EDGE) with funding support from FedEx. The new EDGE / GMACW Board persisted in nonperformance by not holding regular board meetings or sustaining the grant with regular labor market reports. Hence, a disconnected workforce development system persists without data, research-based plan or connecting technology costing taxpayers and local businesses millions.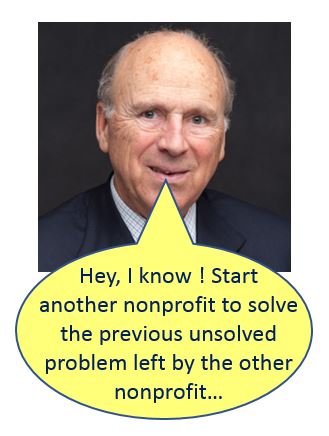 For whatever reason, through a lack of course correction, the establishment of more and more nonprofits in the face of below average results, is mistaken as a solution to Memphis problems. After all, Memphis Tomorrow is down in all of their categories of public safety, workforce and economic development as their nonprofit initiatives feed off the taxpayer and community in need.
Recently, the nonprofit Epicenter initiative was featured with a $10M ask from local government pension funds to support small business development. The ask comes without any Epicenter outcome data after 4 years or even an ad campaign to stress the importance of supporting a struggling small business sector. Its makes one wonder is the primary local corporate goal about getting government funding for nonprofits or solving community problems? And the $10M ask is a big ask of local government retirees which would effectively equate to a $72M ask from FedEx's $24B pension fund.
But the thought process is one-sided on the side of a closed corporate pig elitist establishment that obstructs growth and leaves Memphis behind in a global economy. Legislative bodies routinely schedule members of the Memphis Tomorrow informal network (EDGE, DMC, Chamber) which is constantly bidding for government funding without formally scheduling or proactively seeking out dissenting opinion from the taxpayer. This leaves the taxpayer with no recognized voice as the non-reporting press only covers establishment presenters.
Press Enabled 
Forget about investigation. How about just reporting?  One of the great enablers of the Memphis decline and the rigged system is the non-reporting local press, another indicator of the rigged system. The public or state leaders are not going to see reporting on the above. Smith and Hyde just can't be questioned while the local Memphis press leaves the elitist establishment unchecked enabling  Memphis to fall further behind its peers as a global economy, authored largely in Memphis, roars ahead.
While "Momentum" is the politically correct buzz word term to describe the state of local economic development efforts, the reality is that Memphis total wage growth is far below its peers, small business vitality is near the bottom of 106 metros, poverty rates nearly lead the nation and disconnected workforce development persists. Workforce development is often stated as the #1 economic development priority  but its not in practice and the press doesn't question it as excessive corporate/real estate incentives are the economic development priority.
For example, the recent Beacon Report, went unreported in the Memphis Press. The report outlined excessive tax abatements that approached $200M in taxpayer losses justified with bogus EDGE tax revenue projection accounting. And the local press has yet to report on the apparent lack of progress in local economic development planning to benefit all as tax incentives for the few thrive. As a matter of note, EDGE, birthed by the Memphis Tomorrow CEO organization, is a needed initiative but needs a board that will execute for taxpayers.
Currently, the local establishment appears to measure economic development based on capital investment but no one really knows. After a year, a coherent plan for or definition of economic development by which efforts would be measured has still not materialized. Measurement against an economic development definition of "improving the social well being of people" for example, would not serve "momentum" rhetorical talking points.
Conclusion
This lack of critical press coverage leaves Memphis, a community in need, trapped by an elitist pig establishment that feeds off the taxpayers. Fred Smith and Pitt Hyde just can't seem to figure out why Memphis doesn't grow as large segments of the local Memphis population are dismissed seemingly as a matter of process in a rigged Crump like system of the 1940s. The primary way Memphis Tomorrow can help is by filling the gap with a $1.5 BILLION upfront contribution to address the recurring annual tax revenue gap left by deficient corporate community leadership, excessive locally focused tax incentives and below peer average wage growth and by stop rigging up the system.
Greater oversight from the State of Tennessee is the the only way in which culturally engrained elitist authored imbalances can be corrected in Memphis. Otherwise, Tennessee taxpayers will not realize a return on taxpayer dollars and a community in need in Memphis will be trapped by a rigged elitist establishment because its all the Memphis establishment really knows.
About This Site –  Memphis Corporate Community Leadership (MCCL) Measured
With a special focus on Memphis Tomorrow, MCCL Measured is the first ever and exclusive tool to attempt to measure the effectiveness of Memphis Corporate Community Leadership efforts that use taxpayer money. The site is designed to facilitate financial literacy education regarding taxpayer funded initiatives. Additional videos and resources can be found by browsing the entire site or at http://mcclmeasured.net/resources .