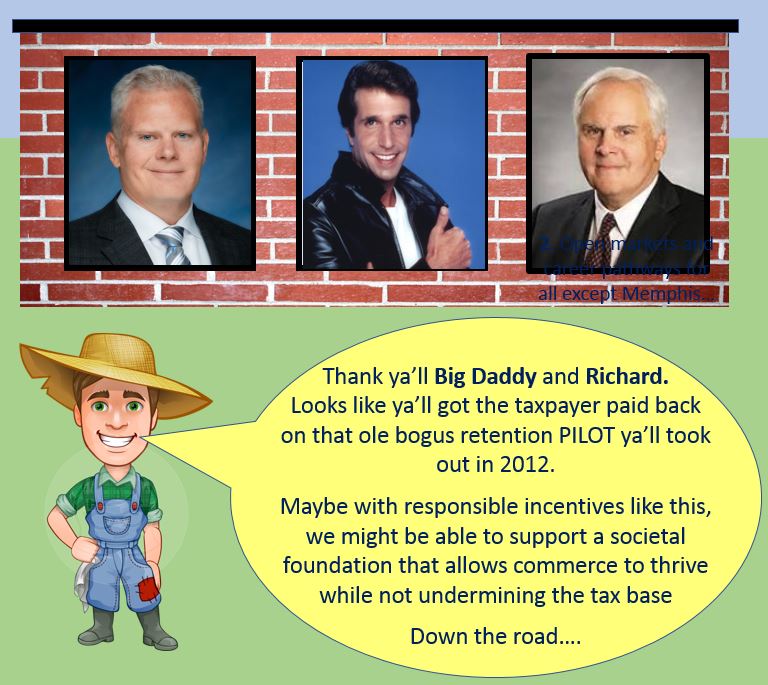 Good news on the  FedEx Logistics Downtown relocation and consolidation that will create 339 jobs. And even better, the Downtown project was incented with a  responsible $3M development EDGE/DMC grant award. The paid upfront grant was applied as opposed to abating existing property taxes over a term that typically spans 15 years for a project of this magnitude.
The EDGE FedEx Logistics documentation did not contain a project benefit cost analysis but based on the methodology used in the past, a net present value economic tax revenue impact can be calculated for the project over a 15 years term of $12.5M. The $12.5M net analysis applies present value based on the upfront grant payments of $3M with current property taxes being paid over 15 years using a base assessment of $5.2M and using a 2.0 economic multiplier to calculate tax proceeds from wages.
While this blog has questioned, the use of excessive corporate welfare in the past regarding retention PILOTs, the $12.5M tax revenue impact from the FedEx project, in effect, pays back taxpayers for the, excessive FedEx retention abatement awarded in 2012.
While applying present value analysis, the projected taxpayer loss for the excessive retention PILOT is $8.5M while using a 10% discount rate to compensate for risks in the overall present value analysis.  This analysis results in a $1M net present value gain for Memphis/Shelby taxpayers using a typical 15-year evaluation model when considering the FedEx Logistics Downtown project while paying back the bogus retention PILOT.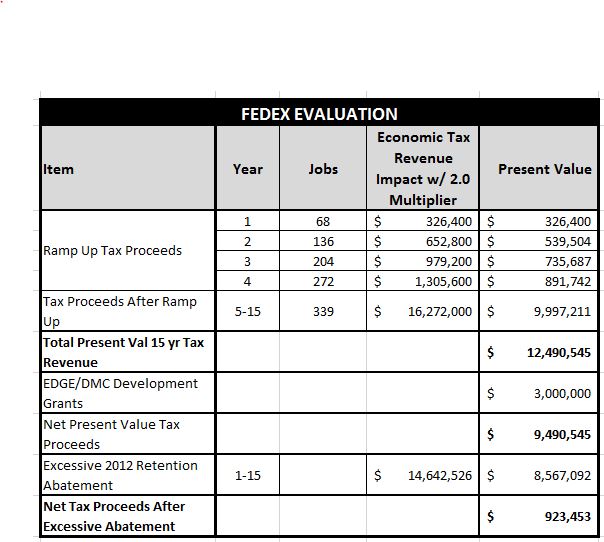 Conclusion
In the current environment there are responsible incentives and excessive incentives. Unfortunately, any questioning of incentives gets one labeled anti-business. That's not true. Excessive incentives are anti-business as they threaten the societal foundation on which commerce thrives.
While tax abatement agencies continue to churn out new incentive instruments on the fly making analysis such as this more complicated than the traditional EDGE project summary, the FedEx project is a nice win for taxpayers. Hopefully, this sets the stage for more responsible economic development incentives moving forward which is both pro-taxpayer and pro-business.