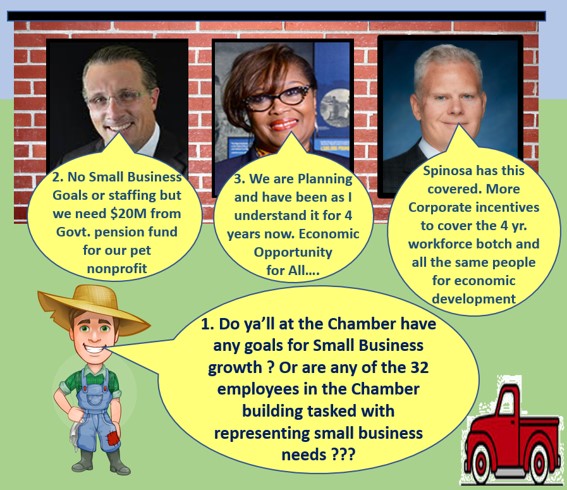 Memphis economic growth and vitality have been botched from the top of the Memphis ecosystem. And the cultural problem cannot be solved if it is not articulated. Shelby County Commission testimony has consistently revealed that the primary drivers of ANY local economy in small business and workforce development have been minimized in Memphis by the FedEx/Memphis Tomorrow/Chamber complex which includes EDGE in favor of corporate/real estate and nonprofit interests.
In Commission economic vitality workgroup testimony,  it was revealed that The Greater Memphis Chamber has no goals for small business growth and with 32 employees, no one in the building at the Chamber even temporarily tasked with overseeing small business.
Meanwhile, corporate/real estate and pet nonprofit interests are represented at the staff level by the Chamber Chairman's Circle  VP and former FedEx employee, Phillip Spinosa. This has resulted in $20M government pension fund ask for a pet nonprofit to support small business development as the Chamber has no small business growth goals or assigned staff support for small business. And further increased emphasis has been placed on corporate/real estate incentives as "the only economic development tool" to make up for gaps that result from botched workforce development efforts over 4 years by the complex.
"Incentives" as the only economic development tool have been forced upon taxpayers by the choice of the FedEx/Memphis Tomorrow/Chamber complex as small business and workforce have been dismissed. Disconnected workforce development has persisted over a 4 year span on the back of foreign contract award that did not deliver while local small business solutions to fix the problem are shut out as a result of the culturally closed Memphis economic system.
Does The Chamber Want Memphis To Grow?
In a Commercial Appeal article last April, David Waddell of the Chamber Chairman's Circle  rhetorically asks "Does Memphis Want to Grow?" Some people want Memphis to grow. MRYE – Memphis Raise Your Expectations is on the legislative record  proposing pro-business and research based economic development solutions early last Summer.
But, after 4 years in some cases, and this is cultural and not because of any unfortunate events last year, from the Greater Memphis Chamber, these are the results:
No public transit policy position
No workforce development goals
No Coherent economic development plan
No small business growth goals and with 32 employees, no Chamber small business ownership staffing per Commission testimony
And, small business growth culturally obstructed by informal networks that exist, per the Disparity Report, while enabling excessive incentive policy
Everyone is supposed to be positive about the above in the backwards FedEx/Memphis Tomorrow/Chamber Crump like culture of the 1940s. With the promise of strong corporate executive leadership in community affairs and through a system of low performance expectations for the small few, Memphis has systematically declined as an ecosystem, since the founding of Memphis Tomorrow almost 20 years ago.
This occurs as the same few in the FedEx/Memphis Tomorrow/Chamber complex benefit with tax incentives as seemingly everything else with regard to true economic development is pushed aside. The cost to the community of this rigged backwards culture, that appears to tap down advocacy for change, through corporate "philanthropic dogbones", is in the billions of dollars.
A better question to ask at this point is "Does the Greater Memphis Chamber want Memphis to grow?" And besides what does "economic opportunity for all" as touted by the Chamber really mean? Nobody knows, while everyone has economic opportunity even if  the economics of that opportunity are poverty or a shut out small business.
But what is known, is that the same closed group of Memphis elites, starve out small business, stifle innovation and rip off proposed solutions, to hand them to foreign providers, remote providers and the same local closed group of pet nonprofits to take credit for and announce in a sea of pageantry. As a result, true local small business innovation is obstructed and Memphis falls further behind and fails to competitively grow in a global economy.
And again, it's a closed system, with the Chamber promoting  the same people to gather bimonthly to chart economic development. After all the big talk, there has been no disruption; its just more of the same….
Conclusion
The only pathway forward is for Memphis Royalty to engage those very people that they have shut out for years with increased small business transactions, better education/workforce development, massive philanthropy and away from excessive tax incentives that undermine true economic development.
Getting there will require political leadership, most likely that of the Shelby County Mayor Lee Harris Administration to chart the economic development course that would include, for example, a new EDGE Board and more balanced economic development policy. With this in mind, Harris is the only political leader that has yet to question the status quo of the economic development complex which is what is needed to move Memphis forward and out of the closed thinking of the 1940s…….